The Storytellers Tales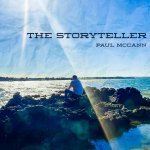 Thu, 22 Sep 2022
1 likes
The Storytellers Tales
by Paul McCann
They call me a storyteller and I'm always out there on the road ,
With bags of stories to tell about a place that they call Tir Na OgE
I was on the road to Galway leaving footprints behind in the snow
Somewhere between here and tomorrow I had found the Gap of Dunloe
The moon was shining on the water, a ship was sailing on the sea
I heard a whisper in the wind , sure you're welcome round here Seanachie
I smelt perfume all around in the air , I felt the touch of a hand
Our loved ones are always there , like the dust in the hills of Ireland
Stories they never get old , they just live to be retold once again
Storytellers keep them alive , like the spark from an eternal flame
The Storyteller tales are on the sails of ships that capture the wind
So listen close and I'll tell you , it's a magic place we're living in  .       .
.