Walking Away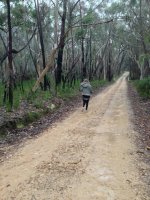 Thu, 14 Jan 2021
.
Walking Away
By Paul McCann
Walking away down the track , never stopping to look back .
Spent all day walking away  nothing here to make me stay .
I'd rather be gone than here living with the thing's I fear.
I rather be somewhere else where I can just be myself .
Walking away into space , walking away from this place
Walking away anywhere as long as its peaceful there .
I don't know where I'm heading along this road I'm treading
But I know I'll get there soon on some quiet afternoon .
Walking away on and on until the day that I'm gone ..
Walking away where I belong , goodbye it's time to move on .
.