Remembering Molly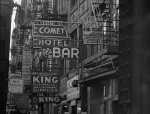 Mon, 05 Oct 2015
Part Five: Remembering Molly
I met Molly on the intersection of Bowery and Bleecker Street, three years ago now. I lived in a fourth floor studio and she sold her body to the foot-traffic below. She was always prowling around the entrance to my building, avoiding eye-contact like it was the death of her generation. In time we came to exchange 'hellos' and subtle nods of the head. Even on warm summer nights she had her hands concealed beneath her armpits and shook on the spot. On a particularly slow night I took to her a cup of hot tea and some cigarettes. As was Molly's nature, these tokens of what I perceived to be kindness were in fact a basic form of currency. I had earned twenty minutes with her. So, we spoke and nothing more. She asked me where my accent was from and I told her, "The same place as me". I asked her what the scratch-marks on her shoulders were and she said, "About ten-dollars on a slow night".
Molly and I continued like this for a while - exchanging idle chat for hot drinks and cigarettes. Oftentimes her potential clients would pass Molly and whisper in my ear and try to line my palm when they desired her services. In actual fact, Molly didn't have a pimp anymore. She had previously been under the employment of a man named Gillespie. He was Scottish-American, born in Jersey but now operating out of El Barrio. He was a man with ideas above his station and kept his girls doped to the gills. Due to his affected 'Black' diction and vernacular, Molly and the other girls used to call him Putney Swope behind his back. The joke was lost on me at the time. I remember that night as being ever so joyful. I made Molly laugh so hard her face began to flush with colour for the first time in my presence, maybe even the first time in years. In the cafe below my apartment, Cafe Hugo, the jukebox was cranked all the way up and La Conga Blicoti, by Josephine Barker, was playing. I tried to teach Molly how to dance, in an old way, but the disconnect from her brain to her legs - via the track-marks on her arms - was akin to the physical insubordination of the proverbial deer caught in high-beams. That's not why I remember it so. Those ten-minutes of jokes and dancing were gunned-down by the reality of why Molly stood on my corner every night. A customer, not a regular one, wrapped Molly's ponytail around his swollen, hairy knuckles and asked through potent breath, "How much for a quick-one in the cunt?" Molly had no set-prices, merely a rough estimate of the maximum each individual looked like he was willing to pay. "Twenty dollars", she told him, "Five!" he replied and I, adamant not to let the horror creep across my face stood stony and watched as Molly haggled and degraded her haggard self to the sum of eight-dollars-thirty-seven-cents. So, off she went along the Bowery and turning into East 3rd Street. I walked into Cafe Hugo and ordered some black coffee, unexpectedly finding myself fighting a crack in my voice as I ordered. I found a spot in the corner and searched the cosmos for anything that wasn't Molly. I looked around at the patrons, heads lolling backward in unashamed laughter. Their stupid mouths agape, fillings on show and horrible cackling sounds polluting the air around me. I began to tap my foot and mutter, "Le blicoti, con te voy, il y a perdu, et a lui, on la conga", without much tune or volume. I prayed for rain, finding that the constant drone of water on the window-panes makes it very easy for me to block out all the horrifying world around me. These thoughts were interrupted by a young man in a mohair jacket and Buddy Holly glasses asking if he could take the spare seat from my table. "Yes, take it", I said belatedly. Smiling, he needlessly furthered the conversation, "Where is your accent from?" I felt a strange, indescribable pang in my torso - a kind of miserable, deeply terrible emotion. Its strangeness lay in the way it made me feel lively and optimistic but all the while marred my head with an oversaturation of explicit, violent and upsetting thoughts. Through the pains I told him with an inflection in my voice, not finding him quite as contemptable as I had moments ago, "The same place as me". He laughed, "So where is that?", and as quickly as my emotional rejuvenation had occurred I wanted nothing more than to throw my hot coffee in the young man's face; to paint a mural in ode to love with his blood and tears; to choke him to death and hang him from his swollen feet on 6th Avenue; to carve the frame of his thick spectacles into a shiv and see how many holes I could put in his chest before his pulse finally relents. "A rainy place", is all I said.
Molly limped into the Café Hugo, a black mascara tear streaking down her left cheek-bone. Her eyes were puffy, red and full of sad resilience. I was in a blank shock - language fast becoming an extinct talent. "Can I have a cigarette?" she asked. We walked back out to the corner of Bowery and Bleecker, a soft sunshine nipping behind the rainclouds as soon as we set foot on the pavement. "The Hawk's a-coming", she noted from the corner of her mouth as I lit her cigarette. Still, I had said nothing until, finally summoning my rage and upset into a coherent monologue, I began to speak. "M…" is all I managed to say before Molly cut me off. "Don't, Michael. I don't want to hear it. I know you're phased by this, but I'm not. I don't want you to be another one of those men. The kind of man who loves nothing more than being the one who gets to give that speech. Don't tell me you're going to save me, Michael. I don't want to be saved; I just want to live my life and having someone to talk with in between means more to me than promises you can't keep". She dropped her cigarette and treaded it into the pavement. "I wasn't…" I began, this time cutting myself off. "I have a bag of frozen peas upstairs. Do you want them?" I fetched the peas with haste, having noticed the exponential swelling of Molly's eye. Looking around my studio I realised how right she was. In that moment when I was preparing to verbally unleash my pent up emotions: it was all steam. I can barely look after myself. I have nothing to offer her. If I had told her all the things I wanted to say it would have fallen on ears that have been worn and bent by similar sentiments for years. It would have been a soliloquy. I wanted to say all those things for myself, not for her. I wanted to be, in that instance, someone's protagonist and the moral arbiter to boot. Still, even with this perspective it was hard to stomach the moment when I handed Molly the bag of frozen peas. I was expecting her to press it soothingly against her swollen eye but instead watched her place the bag on the steps to my building and sit on it with her legs parted.
Molly didn't take any more customers that night, but we sat on the corner until morning. I offered her a blanket and space on my floor for the night but she insisted that I at least let her blow me for the offer. Charity didn't become her. Instead, I sat with her outside. Begrudgingly, she accepted a loan of my scarf, as the night got chillier. My anger and misery had dissolved with the daylight and I came to the realisation that all the awful things that Molly has been through is just life. That's what happened to Molly that night. Life. I thought of my own life, my existence and all that happened to me. Here I was on a new continent, sitting on the corner until dawn with a prostitute I barely knew and I was telling her things I haven't talked to anyone about in years, or ever. I told Molly about growing up where I did. My father was a dreadful alcoholic and my mother was a manic-depressive, each complimenting the other causing a vicious cycle of coinciding misery, drunkenness, reconciliation and abuse. Sometimes, it would get so bad that I would be sent away from Britain in the summers to live with my maternal grandmother in a tiny metal caravan Provence, France. Other times, my grandmother wasn't well enough to take me so I would live with a Ugandan family who attended the same church as we used to. It was never explained to me why I had to go away, and until recently I thought it all very typical. It makes me emotional in a way that I try to supress when I think about myself as a child being sent away. Having very little to cling to, physically and emotionally. I think of him as someone else. I think of him as a scared little boy. He isn't me. He's just someone else to whom life happened, and I mustn't dwell on his sorrow nor Molly's because he, I, and she are alive. And what a privilege that is, I thought as the sun rose like it, inexplicably, does every day. One day the sun will rise and you won't. Life happens to us all, if we're lucky. So, I chose to sit on the doorstep and talk until morning with Molly and appreciated the fact that life was happening to me, right there in that moment.
Molly never came back to the corner after that night and I never got my scarf back. I heard from the dish-washer in the Café Hugo – also a regular customer of Molly – that she gave birth last year to a little girl, and named her Megan. He hadn't seen her in months, himself though. It would be delusional to wish that Molly was in a better place now. Prostitution, drugs and violence are probably still rife in her world, I do not doubt. I just hope that she can find some comfort in her daughter, like she found in me. It's December now, and over three years since that night. I took a walk up Elizabeth Street last night and looked at all the shoppers. The strange juxtaposition of stress and festivity. I imagined Molly in the middle of it all, arms full of presents, wearing my scarf and holding on to the hand of a pretty little girl. Both were smiling, in awe of the decorations and the snow. I meandered home with that imagined thought, knowing it not to be true. On my way home a prostitute at a Kenmare bus-stop asked me for a cigarette. "Yes, no problem", I said. She asked, "Where is that accent from?" I told her, "A rainy place".