Teenage Twitterati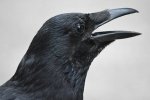 Sun, 20 Nov 2022
1 likes
Homing instinct honed, they alight flapping, cawing, at midnight.
Smoking on the wing, their sequined plumage drenched in vodka,
bypassing my over-brooding to temporarily roost in her room.
Clothes moulted, shoes jettisoned, talons unleashed.
Their drunken allopreening, turns into a cacophony of warm-blooded warbling.
They perch; all delicious cooing delight and disturbance from crown to rump.
Feathers ruffled and bored to the bone; I ascend.
Silence hovers, as if I'm a predator, while they hatch manoeuvres in the dark.
Hoarse chatter, as my door closes,
hers opens, and they hungrily hop down,
leaden-clawed for such slight-boned creatures.
Their primary target; the cleared kitchen.
Gapes open to glean packets, strew wrappers,
nibble cheese, peck biscuits, pizza, leave crusts to fall.
Gobbling, gossiping gannets with distended crops. No dawn chorus for them.
They finally settle, swooned in soft down to way-past noon.
I rise to blazing lights,
tackle the devastation,
twittering to my witless self,
fighting the surging urge to instantly migrate.
Come spring, I'll unleash my long-hidden, clipped wings
take a glorious whiffling, vagrant flight.