Aurora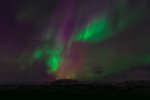 Sun, 24 May 2020
I stood on a mound of dew kissed blades of grass
Overlooking the lake. The reflection of the lights dancing
On the waters ripples were like that of an elegant butterfly.
I looked into the sky and the lilac and lime flickers
In contrast to the starry night sky made my heart skip a beat.
The silence echoed only by the sound of my breath.
The aurora performed once more before I left.
It was the most beautiful thing I had ever seen.