Conformity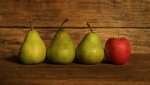 Mon, 31 May 2021
I was a victim of conformity as I was growing up, but without it I wouldn't be the person I am now.
At fifteen I lost a lot of friends who saw me as a bother, a nuisance, because I wouldn't go to the roundabout, the place they decided to gather in a large group to hang out. I just wasn't able to. It wasn't that I was living in utopia, it was that I was sick. They were too obtuse to grasp the implications of their behaviour. The psychological toll of coming to grips with being ill was overpowering but the lack of compassion shown by these people I grew up with made things worse.
Cliques had formed on the European tour the school put together. I was supposed attend but unable to go as I was suffering with a disorder called fibromyalgia, which is arthritis in the muscles. Life is for the living, but not a living hell, yet I was in hell with my illness. If only they knew the extent of my pain, maybe then they would have treated me differently.
I had one friend who didn't let my illness swallow her up into the endless void of conformity. She swam against the current and visited me in my time of need. She has always been there even now that she lives halfway across the world in Canada. She made a point to visit me, when I was confined to my darkened bedroom, without preamble. She treated me no differently than those at the roundabout, something I will always respect her for.
My confidence was in the toilet and the darkness swallowed me whole, both literally and figuratively. Without the use of any stimulus, I had all the time in the world to evaluate life, which later revealed itself to be ominous.
A couple of years of the stress of living with the condition resulted in my father's resignation from his marriage. He had the archaic idea that I needed to just buck up and I'd be fine. All of this conformity and idealisms led to my mental health condition.
I felt incriminated because I asked my father to leave after my mother discovered that he was having an affair. Prior to my request he disregarded my mother for three weekends in a row to spend time with his mistress. I confronted him and he confessed his adulterous sins. His actions were negligent, and the ramifications rippled through the family. He just left me to pick up the pieces which was fitting retrospectively.
After surviving all of that pain, I can now look on it pensively and realise those hard times I overcame shaped me into the semi strong person I've become.