Good Bye My Friend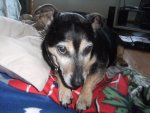 Sat, 12 Feb 2022
1 likes
As the alarm clock buzzed on Saturday morning, I hit with such gusto that it fell to the floor with a thud. I was kicking myself that I hadn't turned the bloody thing off the night before. My partner, Steph, groaned into her pillow but my dog, Rex, stretched his body across the bed, yawning, to make sure I was ok. I rubbed his ever-greying little head and manoeuvred him in such a way that he was between us both.  
Steph was still groaning at being wakened on the only day of the week she got to relax and sleep in, so much that Rex climbed on top of her and licked the face of a giggling body. Then he made his way over to me as I was giggling at her. I loved Saturday mornings, just the three of us lounging around all day, no jobs to go to or mothers to be looked after, it was a peaceful family day.
After my facial I was wide awake and rearing to go. I asked Steph if she'd like a cup of tea. She was the type of woman who would never turn a tea down. I got up and wrapped my flannel dressing gown around me, Rex in toe, and we both made our way downstairs. Before I did anything I 'hit the heat' as I could see my warm breath enter the cold air. The next thing was to open the back door for our precious bundle of joy to do his business. He knew to let me know when he was finished so I got the tea going.
Just as the kettle had boiled, true to form, Rex was ready to come in again. He supervised me as I removed the tea bag from both of our cups and reminded me that I had to go to the fridge next for milk. He was a clever little thing was our Rex. I put one dollop of milk in my cup, two in Steph's as she liked milky tea.
I noticed Rex had retreated to his bed in the kitchen when he usually would supervise me putting the milk back in the fridge.
'Are you ok boy?' I asked in a loving manner. Rex, like us all, was getting on in years. I noticed his mouth making a weird shaking movement, something I'd never seen him do. Then foam started to come out of it and his eyes kept rolling back in his head, his whole body starting to shake. 'Oh shit,' I said.
Panicking I ran to the bottom of the stairs and screamed up to Steph, 'Rex is having a seizure!' before running back to my precious little boy. I sat on the ground beside him and pulled him close, taking half of his bed with him. I needed my angel to know mammy was there for him. I heard what could only be described as thunder, as Steph ran down the stairs and saw me on the ground with Rex in my arms shaking.
Steph looked at me, the tears rolling down her alabaster cheeks. I was hardly able to string a sentence together through my distress so Steph ran back upstairs to grab her phone to call the vets. Before she had returned the seizure had thankfully stopped but our Rex wasn't the same. The thunder approached once more as the vet on call wanted to know some details only I would be able to give. 
We did a trade, I got the phone and Steph got Rex.
'OK, so what happened?' Dr Gary asked.
'He just went into his bed and his jaw shook and his eyes rolled back and foam came from his mouth and he started shaking.' I managed to blurt out, pacing the kitchen out of worry.
'Has he had any seizures in the past?' Gary asked.
'No!' I could tell him with certainty.
'How old is Rex?'
'He's um, he's um, he's fourteen, yeah fourteen.'
'What breed is he?' Gary was firing questions down the phone which grounded me a bit.
'He's a black and tan Jack Russell Terrier.'
'Does he have any health issues?'
'Diabetes,' I could feel the blood drain from my head, 'he has diabetes!'
'Does he take insulin?'
'Yes, twice a day.'  Just as I was starting to calm down Steph shouted over, 'he's having another one!'
'Oh God, oh God, he's……'
'He's having another one?' Gary asked concerned.
'Yea' was all I could manage.
'Do you have any honey in the house?' Gary asked as Steph held Rex telling him everything would be ok.
'What?' I asked, not because I didn't understand the question, more like I just didn't hear it.
'Try and give him some honey, it might help!' Gary said empathetically.
I put Gary on loudspeaker and placed the phone on the kitchen table as I looked in the back of the press where all the cans and pasta went. I couldn't reach the back so I climbed onto the counter and low and behold there was an almost full bottle of this golden elixir.
'Ok,' I said getting down from the countertop, 'we have honey!'
'Great,' Gary sighed with relief. 'Now what I want you to do is pour some in his mouth in the hope that some will be absorbed.
'Ok Dr Gary,' I said and tried to open my sweet boy's mouth. But even with the aid of Steph we couldn't get his jaw to move.
Gary must have heard our struggle as he told us to put it on our fingers and rub it on his gums. Finally, after two minutes with the honey, his seizure stopped. We completely forgot about Dr Gary as we were hugging and doting on our little boy with sticky fingers. So much so that when I heard Gary's voice coming from the kitchen table I jumped out of my skin.
'Hello?' he said.
'Sorry Dr Gary, it's just, he just its….' I struggled for words
'Don't worry,' Gary chuckled, 'I was just asking if you could bring him here as soon as possible?'
'Of course Dr Gary,' I said trying to remember the veterinary hospitals address. I knew where the clinic was but….
'It's on the Swords Road,' Gary offered figuring that that was what I was thinking.
'We'll be there in 30 minutes,' Steph butted in, 'there'll be hardly any traffic!'
'I'll be waiting for you.' Gary said and ended the call.
Steph ever so gently placed Rex in his bed in the kitchen to wash her hands from the honey, I did the same. I stood at the kitchen sink and broke down in tears. Steph affectionately put her arm around me, tears streaming down her face also.
'Right!' I said with urgency, 'we need to go!'
I wrapped the belt around my dressing gown and picked up my little chicken, making sure the honey was stored firmly in my pocket. Steph grabbed a blanket and offered to drive. I was very grateful for that. She helped us into the back of the car where we would have more room and be less distracting for Steph as she concentrated on the road.
Low and behold, ten minutes into the journey, another seizure began. All I could hear was Stephs voice as she told me to breathe and to take deep breaths reassuring me that we were almost there.
I rubbed and rubbed my shaking Rex's gums with almost all the honey that was left in the bottle. I shuddered to think of how I was going to clean the car, when Rex lost his bladder. I cried harder, throwing caution to the wind. He knew he wasn't well just as much as we knew it. I stared at his face when our eyes connected. He stopped convulsing and we gazed into each other's eyes. It was his way of saying goodbye.
Just as we pulled up to the front door of the hospital Gary outside expecting us, Rex's body went limp. His eyes stayed open but they glazed over, as if the light behind them had been extinguished.
Gary opened the passenger door and took Rex from me quickly, running inside the veterinary hospital, as I cried like there was no tomorrow. I knew he was gone.
Steph managed to get me out of the car when I doubled over and vomited. She kindly rubbed my back and handed me a tissue.
Once upright, I clung onto Steph and whispered in her ear, through sobs, that our little chicken was gone. Steph didn't see it so she couldn't, or wouldn't, believe it.
After only ten minutes, Gary came out, a sombre look on his face. I wretched once more and Steph fell to her knees. Rex was dead.
Gary let us go in to say our goodbyes. There he was, his little body lying on a big examination table. We walked over to him, hand in hand and placed both of our free hands on his cold limp body.
'It looks as if he's sleeping.' I said. Steph couldn't form words but nodded in agreement.
Gary entered the room and asked if we had ever thought about cremation. I took my eyes off my baby boy and looked at Steph quizzically. 'Yes,' she said surprisingly. I knew that when she was a child, she had a pet graveyard in the back of her garden.
Steph looked at me square in the eye and told me that she wanted Rex with us for the rest of our lives. 'If we move, or go to live abroad we can bring him with us!' she said passionately. I was happy, not at the thought of his passing, but at the opportunity that would be extended to us to be able to show him the world, as he showed us in his short life.
'So yes to cremation?' Gary asked.
'Yes,' we said in chorus.
'Right well you can have as much time as you need with Rex, I'll go outside and start with the paperwork, you just come out when you're ready.
On the drive home, we did nothing but tell all of our good 'Rex stories'. When we got home the pair of us went straight up the stairs and returned to the bed we got out of prematurely, but it missed an occupant. I retrieved the alarm from the ground and placed it back on its perch. It was only 10:30 and a Saturday, a time for just the two of us to lounge around all day, no jobs to go to or mothers to be looked after, it was a sorrowful family day.
its one of my own pictures