Isabelle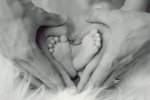 Thu, 27 Jan 2022
Brian looked at his wedding album, a glass of fairly decent whiskey in his hand, and was reminded of how his wife, Emma, was positively glowing that day. A tear fell as he turned to the page that was to change the course of his life forever, a page that bound the happy couple even tighter than even the marriage could, it was a picture of them holding up a positive pregnancy test. Emma had taken the test the morning of the wedding. He remembered the squeal out of her when the two blue lines became apparent and how she danced around the room, pregnancy test in hand. Oh what a special day that day transpired to be, a wife and a baby! Wow!
Brian quickly shut the book, tears now streaming freely down his pale, pasty face. He could hear the sound of his own breath, the ticking of the clock on the mantle, both deafening. He downed the remainder of the whiskey and made his way to bed, alone. Before feeling that he was in anyway tired he rang the gorgeous Emma, who was in the Rotunda Maternity Hospital in Dublin, to say goodnight.
Not even the whiskey could aid Brian's body into sleep, his mind was just too full of emotion. He closed his eyes and hugged Emma's pillow as he lay on the bed. He took a deep breath in and could get the residual smell of her perfume. Through the gurgling of the pipes in the walls and the murmur of a man's voice in the upstairs apartment, Brians was able to slowly but surely go into dream land.
He dreamt of the five days that had just passed. He could see himself and his beloved sitting on the couch watching a cringy Christmas movie and saw her suddenly double over in pain. As a concerned husband he was taken aback at how quickly it had all happened. The next thing he noticed was her bloodied pyjama pants as she struggled for breath. He couldn't remember how he did it but he managed to drive her into the Rotunda and just left the car wherever it had stopped as he carried her now convulsing body into the reception area screaming for help. It seemed like only minutes before he was in a blue hospital gown in the theatre of the hospital, clenching his wife's failing body by the hand tightly as the surgeon cut into her.
To say that he had never seen anything as small as his eight-week premature daughter was an understatement. Emma was under heavy sedation as they tried to control the bleeding and all he could hear were the tiny cries of his little Isabelle. That was the name they had chosen for a girl, Tadhg for a boy.
Brian didn't know where to put himself or which of his girls to stay with. He decided to stay with Emma until she was out of the woods and trusted the professionals with his daughter. He was soon asked to leave the theatre as the doctor struggled to save the love of his life, but he couldn't let go of her hand. One of the midwifes, who were all rallying around Emma, was kind enough to prise his hand from hers on the promise that she would bring him to see his baby girl.
As the theatre doors closed behind him, Brian had to quickly pull down his mask and vomited on the yellow linoleum floor. He felt a warm hand on his back and was quickly handed a white sick bag as he vomited again. It had all happened so fast!
The next scene his subconscious brought him to was a room with twelve little incubators. He was led to the one right next to the nurse's desk and was urged to have a seat beside it. He looked up and a faint voice encouraged him to put his hand into the hole to touch his little Isabelle. She had the softest skin he had ever felt and the tears ran down his face. She was the most beautiful thing he had ever seen. She was on oxygen to help her breathe and there were wires all around her tiny body. Unaware that hours had passed he felt an all too familiar hand on his back again. He looked into the midwifes kind eyes as she told him that Emma had survived the surgery and was asking to see him. He excitedly took a few pictures of his little Isabelle and quickly followed the midwife to his wife's bedside.
Tears welled up in Brians eyes as he reached out for Emma's hand and, as if it was some kind of miracle, she squeezed back. With her free hand, she removed the oxygen mask from her face and looked up at him with glassy eyes asking about their little girl. He proceeded to show her how much Isabelle looked like her in the pictures he had taken. In his eyes they were the two most beautiful women on the planet.
The next day, Brian woke to his wife's hand stroking his hair, he had fallen asleep on the chair next to her bed. He wiped the sleep from his eyes and looked down at the blanket someone had kindly put on him during the night. He could feel his face light up as he laid eyes on his soulmate as she looked so much stronger.
Emma happened to be moved to a room of her own where Isabelle would be able to come and meet her Mammy for the first time as Emma herself was bed bound for the next couple of days at least. Brian was both surprised and delighted when he saw that his little girl was thriving, just like her mother.
The nurse who brought his little miracle in asked if they wanted to hold her. Both Brian and Emma were ecstatic at the thought. The nurse took Isabelle from the incubator carefully and handed her to Emma whose tears were running freely down her slightly pale cheeks. 'Hello little one,' Emma smiled at Brian, 'welcome to the world!' She kissed the top of her baby girl's head.
After about an hour, Isabelle started to cry the tiniest cry Brian had ever heard. He knew from reading all the baby books that he would hear this cry a lot over the next eighteen years but he was delighted to hear it at the same time. The nurse entered again and informed them that the baby was hungry. She asked Emma if she wanted to feed her herself or if she should make up a bottle. Emma jumped at the chance. It was always the plan for Emma to feed the little mite herself and she was overjoyed to get the opportunity to do it.
As Brian jolted upright in the bed, woken by the slam of a door in the distance, he gasped for breath panting like a dog. Eventually he relaxed an lay his head on his pillow once more before hearing his phone ring. He knew it was Emma as her number was assigned to Ed Sheeran's song 'Perfect'. He answered the phone realising that he had slept in. He was supposed to be collecting Emma from The Rotunda at eleven and it was ten past. He apologised deeply and jumped into the car he had retrieved from the impound lot four days before. He caught a glance at himself in the rear-view mirror and got a fright. He was unshaven and smelled of stale whiskey. He just shrugged his shoulders and made his way into the hospital.
He luckily found a spot to park not too far from the hospital entrance, making sure that he wouldn't be towed again and ran to Emma's side. She was sitting on the hospital bed, her legs dangling over the side, her possessions in a plastic bag beside her. He looked into her watery eyes and felt the tears streaming down his own cheeks. He never imagined being able to take his wife out of the hospital, alone. Emma jumped into his arms and the pair of them sobbed for what seemed like an eternity.
Isabelle had taken a turn for the worse the previous day and had sadly passed away. It wasn't immediately apparent as to why. The doctor on the case knocked softly on the door and Brian and Emma sat on the bed as he explained that it was a blood clot that had killed their baby. Although they knew she had died from something, they still reacted in a manner that was purely shock. Eventually Brian was able to ask how his little Isabelle had gotten the blood clot in the first place. He zoned out as the doctor explained that it was an unfortunate complication some premature babies happened to get. He went on to say how the pre-eclampsia was probably the culprit and she more than likely was born with it.  
Unaware of how they had gotten home, the grief-stricken Brian tried with all his might to come to terms with his daughters passing. She had lived for five days. They were the best five days of his life and he wouldn't have given them up for the world. Yet, five days wasn't enough. He stood at the kitchen table with a lock of his baby's hair and a piece of paper with her hand and foot prints and whispered, 'Daddy loves you! Rest in peace my little Isabelle!' He broke down crying and a warm hand gently caressed his back. He pulled his beloved wife into his arms and there they stayed, sobbing for their little girl.