Shame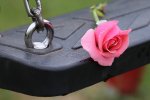 Mon, 31 May 2021
I had a three o clock appointment with Mr. Hamill, an orthopaedic surgeon. I went into the receptionist at ten to three, ten minutes early. I always say to myself that its better to be early and relaxed, than late and be flustered. As she checked me in, she asked me to take a seat outside and said, 'he has someone in there now and there is someone else before you,' as if she said it a hundred times a day.
I hobbled outside on my crutches with trepidation and introduced myself to the blue plastic fold down chairs that were attached to the wall in front of a window. I balanced my crutches on the chair beside me. Even though the window was closed I could still feel a draft on my neck, so I pulled up the collar of my blue denim jacket.
I went through my bag with a checklist in my head as I was waiting; medication list, check; MRI disc, check; referral letter, check. I was happy enough that I had remembered everything I needed for my assessment.
I watched as a middle-aged man, also on crutches, hobbled out of Mr. Hamill's office and sat down in a proper chair in front of the receptionist. Before he had opened his mouth the phone rang, it was Mr. Hamill requesting the next patient. The receptionist, who sounded like she smoked two packs a day, got up from her desk and summoned 'Eileen'.
Right, I said to myself, you're next. Fifteen minutes went by before 'Eileen', who emerged with a smile on her face, went to settle up with the receptionist, who gestured her to wait a moment before once again answering the phone. She came out to me and in a husky voice told me I could go in.
The blood drained from my face. This was it; this is the man I had waited six weeks to see, I couldn't believe it was actually happening!
I hobbled into Mr. Hamill's office with a nervous smile on my face. His office, a modern room with bookshelves on two walls, an examination bed on another and a window on the remaining wall. The shelves were full of books and stationary trays, all a different colour. The middle of the room was enveloped by a big old wooden desk with just a computer screen and a phone on it.
Mr. Hamill was a tall, thin gentleman in his late fifties. He stood up when I entered the room and gestured towards the chair in front of him. I sat, as did he, before he introduced himself. He was a softly spoken man whose gestures were nonchalant.
I noticed that as I entered the room, he was looking at me up and down, judging my appearance. I handed him the MRI disc, along with my list of medication and my referral letter, hopeful he had an answer for the relentless pain in my right knee. He gently reached over the desk and took them from me.
First, he looked at my referral letter. He made a noise 'hmm' with a furrowed brow. Next, he looked at my list of medications, 'ahh' he said. I am on a substantial array of medications for various ailments. His eyes hit the antidepressants and opened widely; it was the most animated I had seen him so far. Next, he saw the anti-psychotics which raised his eyebrows. He put the piece of paper down and he once again looked me up and down in judgment. His elbows on the table, he drummed his fingers together like Mr. Burns in The Simpsons when he said the famous 'excellent!' phrase.
Mr. Hamill hadn't asked me any questions thus far, but his facial expressions said all I needed to know even before he read the MRI. He was going to make this all about my weight.
'You, my dear, have osteo arthritis!' he said with condemnation in his tone. He rose, gesturing me towards the examination table behind the door.
'I have shorts on under my pants,' I said ready for him to ask me to take off my trousers to examine me.
'No, no need,' he retorted.
I sat up on the table and he moved my knee forwards and back, and then side to side. I could feel the pain searing up my body and could hear the crunching sound you'd get if you were eating popcorn.
'Hmm,' he said again, 'you can return to the chair now.'
I limped my way back, the tenderness showing itself each time I put my foot under me. Mr. Hamill proceeded to lecture me about how my knee pain was greatly impacted by my weight. He turned the computer screen in my direction and pointed out that I ceased to have cartilage in my knee and how the bones were rubbing together causing my pain.
I asked him if he could do something surgical to it, something my GP suggested he could do because of the calibre of orthopaedic surgeon he was. He flat out dismissed me and told me he wouldn't touch me until I got my weight down significantly.
I explained that I couldn't exercise due to the pain. He shrugged his shoulders and held up his hands adamant he wouldn't touch me at the weight I was. I found myself in a catch twenty-two situation.
Tears filled my eyes. My GP had recommended him and had given me hope that he could help me of which I was eagerly hanging on to. He handed me back my medication list and MRI disc dismissively, which I took back reluctantly. I pleaded with him, but he just shot me down at every attempt.
He ended the consultation by saying, 'you can settle up with Margaret,' and started to write on a blank piece of paper.
I left disheartened and crying, the opposite to his two previous patients. I sat in front of Margaret sobbing loudly with no tissue in sight. She called the next person in as the phone rang before she could express any words to me. She sat down and said, 'that will be €250 please.'
I stared at her in shock. I was ultimately paying for someone to shame me. He looked disgusted throughout the appointment. I grudgingly handed her my bank card and put in the pin code. She handed me the receipt which I put in my bag with my trembling hands.
I was furious at the audacity of Mr. Hamill and the way he treated me. As I exited the clinic, I rang my partner and proceeded to tell him how the so-called doctor and body shamed me not offering any treatment whatsoever. I left the consultation with no hope and felt disconcerted.
He tried to console me by saying how much he loved my voluptuous body just the way it was.
For obese women, it isn't as easy as just losing weight, there are psychological aspects to it which I believe most medical doctors, and people for that matter, can't comprehend. Every woman is beautiful in their own way and shouldn't be made to feel ashamed of who they are.