Unheard Gossip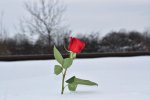 Sun, 27 Jun 2021
'Penelope, Penelope are you home?' I called up the stairs to my daughter. I had just done a massive weekly grocery shop, as we had had nothing in the house, and was bursting to tell her that I had met an old friend of hers with her new baby. I love babies. My dream in life is to be a grandmother, however, with one gay son and a daughter with mental health issues I know that my dream will only be answered by some sort of miracle.
I presumed Penelope was asleep, rolled my eyes and proceeded to unload the groceries from the car, on my own, and put them away. Finally, when I had all of the shopping bags empty, I went to put them back in the boot of the car. I opened the front door, and I was faced with torrential rain, rain that wasn't there a few minutes ago. 'I'm not going out in that!' I said to myself and closed the door as quickly as I had opened it. I kicked the bags under the telephone table ready for the next time I was going to use the car.
I shouted up at Penelope once more, but only got silence as a reply. I had to bring toilet paper and shampoo upstairs anyway and knew that if I didn't get my daughter up now that she would be wandering the halls well into the night. I attempted to embark on the journey up the stairs. I needed a hip replacement, but because of covid, things were progressing slower than I would have liked. When I gained victory by reaching the top, I put the shampoo and toilet paper in their corresponding homes and entered Penelope's room, excited to tell her the gossip.
'Surprise, surprise!' I muttered under my breath as I found Penelope on her bed, laying on her side facing the window, the same position she always sleeps in. I called out her name a few more times before I started poking her, a move that almost always worked; almost.
I was starting to get worried and moved over to the other side of the bed to face my daughter whose eyes were half open, pills visible in the vomit on the floor beside her bed. My heart sank. I grabbed Penelope's shoulder and shook it vigorously. When I stopped, Penelope's body slumped down into the middle of the bed. I clasped a hand to my mouth and moaned loudly, 'no!'. I shook both my head and my daughter. When I reached for a pulse, to my horror there was none.
Panicking, I rang for an ambulance. The 999-operator made me put my phone on loudspeaker and talked me through CPR as the ambulance was enroute, I knew however that it was too late, yet did it all the same. After five minutes of CPR, my body shook uncontrollably as I sobbed. Penelope was cold. I knew she was dead. 'You stupid, stupid girl!' I screamed.
When the paramedics arrived, I answered the door, numb, my mascara running down my face with each tear. They had to bring Penelope's body to the hospital; something that gave me new hope. I joined the body of my daughter because I had a delusional idea that once at the hospital, the doctors would be able to, by some miracle, resuscitate her.
At the hospital, a doctor, not that much younger than Penelope brought me into a side room and proceeded to confirm my worst fear; she was dead. The doctor then asked if he could get in contact with any family members. My heart sank further, I had to tell my son that his sister was dead, but to make matters worse, I needed to tell Penelope's father, a man with whom I did not speak.
As I told my son, Kevin, the news that his sister had taken her own life, he became hysterical. He was down the country and all I wanted to do was jump into the phone to comfort his trembling body. When his partner, Patrick, came on the phone, I begged him to safely transport my now only child to me as soon as possible. Patrick, ever the sweetheart, gave me his word that he would make sure Kevin would get the next train up as I heard Kevin wailing in the background.
After I left Patrick and Kevin, I next had to dial the number that was etched in my brain as one I had sworn to my kids never to answer, Penelope's fathers' number. He was furious at my little girl, something I was also feeling but knew it was no use, the damage had been done. Twenty minutes later, he arrived at the hospital. It was a face I once had loved but since had loathed yet was happy to see; it was bittersweet. I have no recollection of the next few hours as I was asked numerous questions by a lot of people; it was all a haze.
I was suddenly transported back to my house without remembering how. I stood at the front door, darkness in the air, wishful that when I opened it and called out Penelope's name, I'd get a response or find her asleep in her bed.
I called out my daughter's name to no response, I rolled my eyes as if it were a good omen, and climbed the stairs, hugging the railing as I went. I stood outside Penelope's room, composed myself, took in a deep breath and entered. To my dismay, my daughter wasn't there. I fought to keep my breath.
From the door jamb, I looked around her daughter's sanctuary and drank in her surroundings. I saw her memory board with pictures of myself, Kevin and her father on the chimney breast. I moved over to her desk, ignoring the tablet filled vomit that lay both on and beside her bed. I sat on Penelope's swivelling desk chair, a place where she spent hours upon hours at a time and looked at the cork board on the wall beside her desk. It had many inspirational quotes tacked onto it and messages that she must have said over and over to herself, one of them being 'I am safe.' Under that message, which was written on a Winnie the Pooh post it, was a month's supply of empty medication bottles with a white envelope accompanying them.
I picked up the envelope and saw the words, 'I'm sorry' written faintly on the outside. With trepidation, I opened the envelope and found a letter inside which read:
I'm sorry for all the pain I have put ye all through, but I just couldn't go on. Life is supposed to be for living, not a living hell. I couldn't bare this life, as it stands, one moment longer. It doesn't mean I don't love ye. I just have to be selfish for once in my life. I have to take my own destiny by the horns and run with it. It brought me to this piece of paper, this pen and me, trying to give you an explanation. I can only say how sorry I am for leaving ye all behind, but I feel you'll be better off without me.
I looked at the piece of paper in front of me shocked. I jolted towards the bathroom where I vomited uncontrollably. I tried to grasp my daughters thought process as I retched, but instead I remembered the gossip I wanted to tell her earlier, which came to the forefront of my mind for some reason; Penelope was never going to hear about her friends' baby, and I would never be a grandmother. I sobbed uncontrollably at the thought of never seeing my baby ever again.