Witness box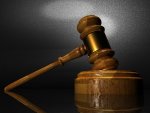 Sun, 08 Sep 2019
1 likes
First he froze
As panic rose
Sweat upon his face
Splinters flying
His pregnant wife crying
As officers flooded the place
'What do you want?'
He shouted out
'We've a warrant for your arrest!
Now hands in the air
And keep them there'
The detective wore a kevlar vest
For now however
The police did enter
From each and every angle
He was crushed
His house ambushed
Out of this how would he swangle
'Take him to the box'
Was shouted across
A busy police station
They cuffed his hands onto
A cold metal table
Bolted to the ground
He looked into a two way mirror
Until it shook
As the door slammed shut
The detective sat down
Hat upon his crown
Acting like king tut
His teeth chattering
Is heart thumping
He tried to show no fear
The detective suspicious
It seemed fictitious
What was he doing here?
'Where were you at 1042
On the night in question?'
The detective asked with gusto
'I was with my wife'
He lied for his life
And was hoping it didn't show
'Will your wife
Do you think
Give you an alibi?'
He closed his eyes
His ears went pink
He hoped that she would try
The detective let out a roar
His voice did soar
Throughout the whole police station
He already had
Talked to his wife
She showed no corroboration
The detective asked
'Do you own a gun?'
And slammed a photo down.
'Be careful son
For this outcome
Will affect your life at home'
'That's not mine'
'I think you're lying'
They went tete-a- tete
He then knew
In the detective
His match he had met
He sung like a bird
For on the word
Of the detective,
He would cut a deal
If he admitted to steal
The life of the effected
He was uneasy
His palms Sweaty
Suddenly he got sick
The detective recoiled
His favourite boots soiled
The smell of the vomit thick
The detective knew
He had all
He needed for the courts
He put his prisoner
Into his cell
His sobs were thunderous
He looked so small
In the witness box
The twelve jurors aghast
The shooting he admitted                            
The judge committed
Prison bound at last