BRAVERY OR FOOLISHNESS ?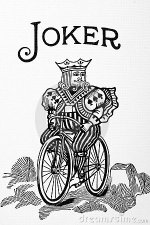 Sun, 31 Aug 2014
there is a line, so skeletal 
when weighing certain traits
and mankind's argued up a storm
in furious debates
.
take genius and insanity
it's such a tightrope walk
between eleven-fifty-nine
and midnight on the clock
.
dilemmas force a soul to act
to keep what they must save
is it an act of self deceit
that makes them seem so brave ?
.
when one's bright light outshines them all
could angels fail to see
that one foot's mired in foolishness
and one in bravery ?
.
a playing card is double faced
one cloaked in mystery
the other side's an open book
for all the world to see
.
but sometimes when the deck's face down
we dare to take a chance
and even in the face of death
we face the circumstance
.
when troubles shake our very soul
with fevers tough to cool
is it an act of fearlessness
or ramblings from a fool ?
.
when one stands up for their beliefs
could angels fail to bless
when one foot's mired in bravery
and one in foolishness ?