CHAPTERS LEFT TO READ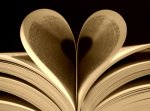 Wed, 23 Apr 2014
our love has played out like a book
with chapters in a row
a roller coaster of a ride
with rhythms, fast and slow
.
at times, we thought our book of love
was finished in mid-scene
we contemplated different books
those thoughts were strange and mean
.
we took a furtive sneaky look
upon that final page
there's many chapters left to read
before we reach old age
.
we tossed aside the notion
that we'd take a different road
we took a long hard look
and watched our former love explode
.
we talked about the things, gone wrong
and how we would repair
we find ourselves euphoric
with our feet adrift on air
.
we now know how the book will end
our love life will succeed
how thrilling to anticipate
the chapters left to read