CINNAMON FRECKLES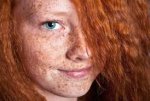 Fri, 14 Nov 2014
how delightful were the freckles
that adorned her skin, so fair
like stars up in the heavens
they were scattered everywhere
.
she always smelled like cinnamon
a sweet environment
and often times, i wondered
did her freckles cause that scent ?
.
she said she didn't like them
and i found i had to beg
to see the constellation
of orion on her leg
.
she talked of creams and lotions
that would make her freckles fade
she envied girls with pure white skin
and wished that she could trade
.
we ended up as lovers
and although, you may just scoff
the contact of our bodies
caused her freckles to rub off
.
she now enjoys the elegance
of alabaster skin
while i am wildly freckled
with orion on my shin