STRENGTH OF THE SUN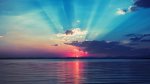 Wed, 18 Oct 2017
our sun's so very heavy
yet seems weightless in design
as she rises very slowly
till she fills the sky with wine
.
if she ever chose to leave us
or her presence here was banned
how could we go on living
in this dark and frigid land ?
.
sometimes when friends have problems
and they don't know what to do
perhaps you are the beacon
that will help them see it through
.
your words provide enlightenment
just like the rising sun
when strength brings warmth and clarity
then weightless joy is won