WATUSI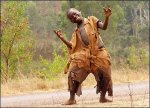 Sat, 30 Jul 2016
watusi was the shyest boy
that dwelt within the tribe
and all the other children there
would always taunt and gibe
.
each night, the young would celebrate
the rising of the moon
the drums and pipes would resonate
an ancient sacred tune
.
around the fire, the group would dance
their bones, alive and wild
but over in the bushes
stood a solitary child
.
watusi was afraid to dance
he wasn't very good
he couldn't get his body
to behave the way it should
.
one night, while he was watching
from his distant little roost
he heard a roar behind him
and he instantly vamoosed
.
he tore into the campground
clearing startled dancers, there
then stepped into the fire itself
with little feet, so bare
.
he hopped and jumped maniacally
feet, twisting, filled with pain
his knees were pumping rhythmically
just like a man, insane
.
the others joined right in with him
as if they shared a trance
and howled away beneath the moon
enraptured by his dance