Pact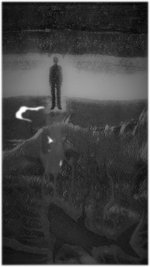 Mon, 30 Mar 2020
Bird
She was woken in the middle of the night by the loud screeching of a bird.   At least, it sounded more like a bird than anything else she could reference, and a bird in pain at that.  The noise reverberated round the bedroom, echoed through the dark sky she could see though the open curtains.
Next to her, Matthew began moving, shuffling the bed clothes and smacking his tongue against the roof of his mouth as he came to the surface.
"Sarah, what's wrong?  Why are you awake?"
"Can't you hear it?  It's outside.  I think it's a bird and it sounds like it's hurt."
Matthew stretched, pulling the quilt off her as he did so and the screeching seemed to sharpen.  It definitely was bird-like, but there was something of the sci-fi film pterodactyl about it.  Something ancient, cold and haunting.
"Just go back to sleep, will you?  I don't know what it is, but it's not going to hurt us and to be honest, I'm quite pissed off you've woken me up."
Sarah rolled over and pulled the quilt back over her shoulders just as she felt Matthew sit up.
"It could be the cat.  I'd hate anything to take the cat off.  Bloody animal, but I love it."
She felt him swing his legs over the edge of the bed and fumble for his slippers.  He stood up and she put her arm out to touch him, but he brushed her away.  She heard him go downstairs, open the kitchen door while she focused on the red light of the ceiling's smoke alarm, considering what she was certain of - he'd not be getting up on a winter's night if he thought she was in danger.
                                                                                             *
Tariff - Matthew, 1638
Matthew walks up the hill.  His legs are heavy from all the to-ing and fro-ing, the fetching and carrying.  He has been up since three o'clock this morning and his eyelids feel the weight of every second since then.  In the wide, western sky, the sun is setting.
After this last climb, his final task of the day will be to record the witch's billing at the prison where she is being held.  For meat, butter, salt and fish furnished her during her imprisonment – 4 shillings.  For the straw she sleeps on – 6 pence.
The witch can pay, or her family – it is all the same to him and it is not as if she will have need of money where she is going.  As long as the ledger is correct and all debts are settled, that is good enough for him.
The Lord knows that Matthew loves his job; both its process and certainty of outcome.  All he needs to do is see things through to their end and not think too much; to clean and oil the thumb screws and ensure all his instruments are prepared and organised for their next use.
Despite, the summer heat, the evening is a chilly one.  Matthew feels this cold intensify when he reaches the crest of the hill.  Along its ridge, all the stakes he has positioned so carefully, look like the trees of a small, dense wood.
*
Questions to ask of a witch - Sarah, 1638
How long have you been a witch?
I have never been a witch, Sir.  You are mistaken in your assumption.
Do not deceive me, Sarah Wainwright.  You have been observed following a man with a long grey beard into the wood.  At least two of your neighbours saw you carrying a pail of water at the man's behest.  Where you spilt the water, they observed the ground turn black, the violets that populate the track shrivel into purple dust.
Forgive my smile, Sir, but what you accuse me of is beyond sense.  You surely cannot listen to such foolishness.  I would follow no man into the woods – long, grey bearded or not.
Do not play with me and simply answer me this.  Why did you become a witch?  However it is you choose to explain the reasons for your behaviour, what you were seen doing is what you were seen doing.  On at least three occasions, you carried toads and serpents from your garden and went, arms full and stumbling, up Elder Hill.  You put the creatures in a pot there and if they tried to escape, children you had bewitched (no, do not protest) chased them back to the pot with birch switches.
I have no answer to give you as to why, as nothing I could say to you will you listen to, or change your mind on.
What was the name of your master among the demons?
Ah, Satan himself on a golden chair!  Who else did you expect, Sir!  Are you satisfied?  Am I revealing what you wanted to hear from me?
And so it is made apparent, Sarah Wainwright.  So it is made apparent.  You have been seen climbing trees like a cat.  You have vomited needles, shreds of cloth, hair, glass. Then you have been observed lying on the ground on your back, your chin pointing upwards, in defiance of heaven.
*
Bird
Matthew had been out in the garden for a good few minutes now and Sarah began to wonder what he could possibly be doing.  Surely, there was something to find, or there wasn't, but either scenario would have a quick resolution?  She considered going down after him, but knew this would only irritate him, count as her being over-fussy.  At least, for now, the bird, or whatever it was, had stopped screeching.
She lay in the darkness, pitying the bird.  The sound it had made could only have been one of pain and now it was Matthew who had gone to save it.  A man she had seen little kindness from, to say the least.  She traced the raised scars on her hands; the new wound, the scar in the making, under her fringe – the one she'd earned from him by not being able to explain the missed call from an unknown number on her phone.
When Matthew came back into the bedroom, she stayed motionless and silent and he made no attempt to speak to her anyway.  She was still worrying about the bird when she turned away from him, wincing at the tender bruises on her side, the emptiness in her womb.
*
Tariff - Matthew, 1638
Matthew is calculating the costs of things and he cannot afford to be wrong.  By the end of the month, he needs to show the accounts, and accuracy is all.  He notes the two, most recent additions in the ledger.  The price for two turned trees (or gallow stakes) – 40 shillings.  The price for two horses for the hiring and fetching of a man and the taking of him home again – 45 shillings.
It is the time afterwards when Matthew is the happiest.  After the witches have been punished for their sins.  For their stupid, arrogant ways.  The time on the hill when the stakes have been knocked down and burnt.  How the wood smoke they produce mingles with the morning mists, how sweet and complex the smoke smells.
He rolls his eyes though when he thinks of the bothering bees and errant free thinkers who rail against the work he does, even against the very word to describe his role.  Torturer.
It is an honourable profession and a righteous one.  Its process is sealed in the laws of man and God and it follows a just line – preparatory torture, ordinary torture, torture for occasion, extraordinary torture and execution.  Matthew dreams of the day when he is trusted enough to be the executioner.  He is sure the day is coming and until that time, he will work on every aspect of his job to hone and perfect his craft.
*
Questions to ask of a witch – Sarah, 1638
What was the oath you promised your master?
I promised my master nothing at all, Sir, as I have no master.  I run as free as the hares in the field.  I follow the sun and the moon and find wisdom in the whisperings of the wind.
Did you attend a witches' sabbat and what did you drink there?
Forgive my forthrightness, but have you drunk wine before attending this court?  It seems of far more import what you have imbibed than I.
Watch your mouth, witch.  I have it on the best authority you dined with the devil under a cursed tree.  You drank the blood of foundlings and ate spoiled meat with no salt.  You, Sarah Wainwright, are a witch of some renown – not doomed to watch the banquet from the edges, but sitting instead at the devil's side.
You talk, Sir, you talk.
And you made your pact, as is the devil's wont.  Signing his ledger with blood taken from a cut between the little finger and ring finger of your left hand.  You were observed by your neighbour arriving home at dawn, eating an apple!  And as every good body on this earth knows, devils, like maggots, can hide in apples.
*
Bird
 It had been the bird's screeching that had woken her, but now the absence of the noise kept her awake.  The bedroom was stuffy, full of the fug of Matthew's body.  The only sounds were his mewling snores and the cat, who was scratching the door to come into the bedroom.   
Sleep was a long way from where she was, and exchanging places with the cat, Sarah went downstairs.  In the hall, she switched the light on, knowing it couldn't be noticed from their bedroom.  She caught sight of herself in the mirror by the front door, recalling Matthew's comment from last week.  "You know, Sarah?  You're actually pretty fucking ugly."  Looking at herself, she knew he was wrong.  Tired looking, certainly.  Maybe a little plain.  But no, not ugly.
In the kitchen, on the table, laid on out some sheets of kitchen roll was the bird.  It was such a small thing, just bones with a covering of scruffy, sparse feathers.  She wasn't confident in the naming of birds, but it was possibly a hedge sparrow, maybe a wren.  Its head hung loose and crooked to the side and there were thin tracks of blood around its neck and in the corners of its still bright eyes.
She sat at the table, looking at the bird, wanting to cry for it forever, to wash away its pain.  She wanted to hold it, cradle its fragility.  Matthew and the cat came to mind – two peas in an indifferent, if not cruel pod.  She thought of the pact she'd made with Matthew – the exchange of vows known as marriage – and for a moment, she closed her eyes.
From nowhere she knew existed, Sarah remembered powerful words, an incantation to revive.  Simple, rhythmic words from somewhere deep and old, said out loud to bring things back.  She bent down closer to the bird and gently stroked its beak.
*
Tariff – Matthew, 1638
He knows he should not, but Matthew has made an agreement, a pact if you will.  The executioner would like a day away from his duties so he can go to market and Matthew is going to step in to do his job.  It cannot be known by the authorities, but who among them can possibly guess who is under the black hood?  Besides, the man is still being paid, despite Matthew reaping the reward.  In the ledger, it will note: For the executioner for his pains – 8 pounds and 14 shillings.  For his expenses – 16 shillings and 4 pence.
Damn Sarah Wainwright, Matthew thinks as he sets off for the prison.  Everything is in place and prepared, and there has never been a witch more deserving of his attention than her. The horse he is riding is jittery, not his own, but one of the horses he hired for the executioner.  At the crossroads where he picked it up, the horse in its fear cantered to one side and crushed a bird's nest, built low in the hedgerow.  The bird's eggs had strewn across the ground and the shells had crushed under the horse's hooves.  He wasn't sure he couldn't hear the shells still crunching as the horse moved onwards towards the prison.
Matthew is feeling happy.  He will be precise and fair in the carrying out of the execution.  He will be clean and quick in his actions.  It is going to be a beautiful day.
*
Questions to ask of a witch – Sarah, 1638
By what means do you fly through the air?  What tempests have you raised?
I have raised no tempests and have not flown through the air.  My feet are firmly on this ground.
What music was played at the sabbat and did you dance?
There were musicians with pipes and a hurdy-gurdy.  We stood in a circle, one facing forward and one facing backward and so on.  We stamped in time to the music and we danced.  How we danced.
Have you ever harmed a living creature?
Never Sir.  I have never harmed any creature in this whole, wide world.  In truth, quite the opposite.  I have cradled a bird as it lay dying and I have touched its beak, stroked its bones.  I have whispered words to it to bring it back, so it could once again fly.  So it is safe and free.
*