Skylines and Angels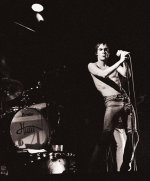 Sun, 30 Nov 2014
"If who you are is who you are, that is really hard to steal…" – Iggy Pop
***
Sixteen and in love, when nothing else in the whole damn world matters and this song goes on for ever.
I am the passenger and I ride and I ride
Coming up on shuffle, time after time.  Cool as fuck, Iggy swagger.  Leather jacket, ripped jean insouciance - a word you've just come across and wanted to use.
I ride through the city's ripped backsides
Holding hands on the sofa and leaving your best friend out.  Some friend you are.
I see the stars come out of the sky
Blake and The Stooges and Patti and Milton mashed up and forming you from this moment on.  Ever so serious, utterly ridiculous.
Yeah, the bright and hollow sky
Drainpipe jeans worn with woolen tights underneath because your legs are too skinny.  Converse on with turned in toes.  Kohl rimmed panda eyes, one contact lens only because you daren't tell your mum you've lost the other one.
You know it looks so good tonight
Sex for the first time in your best friend's parents' bed while they're out.  How skanky is that?  But still you get up in the middle of the night because you think your makeup might have rubbed off and he'll be able to see your spots.
We'll see the stars that shine so bright
Afterwards, pretending it hasn't been a disappointment.  Shutting out the embarrassment of the memory by sketching in your art folder.  Skylines and angels in 2B haze.
Singing la la la la la. lala la
Would you go back? Hell no, not ever.  But when did is become was?
Get into the car We'll be the passenger
The darkest of eyes and snake writhing muscles.  See-through PVC trousers and a horse's tail.  Strutting against death, Iggy abides.
We'll ride through the city tonight
For this lesson, muchas gracias, Iggy.
So let's ride and ride and ride and ride
You can grow old with fire.
(The bits in bold are from Iggy Pop's The Passenger)
http://www.youtube.com/watch?v=S0nlygb1Qfw