Not Brownian Motion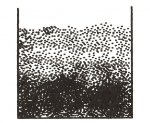 Thu, 10 Sep 2020
1 likes
A story may float a sea
for a while, a shadow
separated from its life,
buoyed by waves 
until it is fractioned
into particulates and 
subject to an action 
that is not Brownian Motion. 
They are not invisible,
these drowned tales;
a fragment can be caught,
bent and remembered,
by light. 
They are not random;
each movement
has been nudged
by another, but known, and
under the will of the other, 
a direction of slow diffusion
where hope lies
in the promise of a shore.
And it is true
that sometimes hope deceives,
applies a fire, urges kinesis
and we leap into loss: 
the ocean is full 
of the migration of tragedies.
Image is from wikimedia commons: https://commons.m.wikimedia.org/wiki/File:Brownian_motion_gamboge.jpg
Image also on Twitter: https://commons.m.wikimedia.org/wiki/File:Miranda_-_The_Tempest,_by_John_William_Waterhouse.jpg