The Heart of a Machine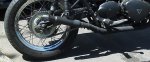 Thu, 06 Dec 2018
It was manufactured in Italy. No, crafted is probably a better word. Hand crafted by artisans and now lovingly restored and maintained by a lover of fine mechanical art. That would be me, Ger Ottman! It's Gerrick Jamison Ottman, but only my Mother called me that, and it was usually followed by a smack on the butt with a wooden spoon. Sometimes more than once…  Ger works just fine for me.
There were several manufacturing firms in Italy at the time with mechanically artistic and significant examples utilizing both the two and four wheeled palate. Everything from the Ferrari V12 to my Ducati 750cc V-Twin. Each incorporated unique interpretations of the art, selecting from a wide range of textures and hues.
Art is often found existing in different spaces and states. Some art is hung carefully on a museum wall or displayed on an illuminated pedestal, but examples of forms more kinetic or fleeting abound. In 1986 my 750cc Montjuich Ducati first breathed life into its twin 36mm Dell'Orto carburetors. Sadly, my Juich sat quietly on an illuminated pedestal for many years before coming into my possession.
I say sadly in that this machine, whose true destiny should have been lived out gloriously on a track or open asphalt highway. Instead this magnificent example of latter 20th century internal combustion masterpiece deteriorated from a few show laps at Laconia, to a pedestal in a glass garage window under a spotlight in Bayonne, to the window of a barbershop on Spruce Street, to a warehouse in Baltimore, then a container in a railyard in Andover.
It was over one hundred seventy years old when it was pulled back out into the light and caught my eye. I still have my original 1974 750 GT, this beauty's slightly older and much tamer brother. I spotted the intricate design details at a glance, though when I tell this story I usually claim to have sensed the presence just before turning to look!
It was original. Every nut, bolt, and gasket. Every nut bolt and gasket was in terrible shape, corroded metal, gaskets, seals, and anything rubber or plastic dry rotted and crumbling. There was a certificate too, very official, attesting the origins and sad fact that this once proud Italian steed had been ridden for less than one thousand miles from the day it left the factory.  
I have used the word "it" when referring to this machine because I try not to "Genderfie", if that's a word, mechanical devices. That doesn't mean I don't view machines as living entities, I do. I just don't identify my machines with a gender. I will state that I was moved nearly to tears at the thought that those twin carburetors never really had the opportunity to suck the sweet free air just beyond their reach, the tires had barely worn before they rotted to dust, the carbon steel rings on the pistons and the cast iron cylinder liners had hardly the chance to wear into blissful wedded harmony before seizing tightly together in a grotesque paralyzed embrace.
The deep red paint was still smooth and lustrous under the line of dust I brushed aside with my finger. The touch sent a shiver into me and I felt the faint stir of life and the powerful urge to live reach out into my heart.
"I'll take it! Load it on the truck." I said and the rest, as they say, is history.
Speaking of history, there's a lot of it to tell and you can find most of it elsewhere. The restoration was not easy or cheap however the fact that it was possible at all is remarkable in itself. A hundred years ago simply disassembling a motor in such deteriorated condition would have done so much damage to the delicate inner workings, everything would need to be scrapped and remade from scratch. Something that was often not possible after stocks of parts were exhausted and those with the skills to produce them were long lost to time.
Technologies like nano-bots and bacterial metallurgy made replicating softer materials such as gaskets, hoses, and rubber at the molecular level possible. Scored and pitted metal was resurfaced to near perfection in warm baths of genetically specific bacteria. The scoring and ridges on wrist pins, valve stems, and cylinder walls were replaced with a mirror like newness. In some cases it took weeks and repeated immersions in various blends of what were often referred to, however inaccurately, as "oils".
It took a little over three years from crate to the first mix of air and high octane gasoline igniting once again to voice the sound of life from anodized black trumpets of joy. There was no holding back now as I baptized the rich red enamel paint with tears of joy at this rebirth. We had a good run, about seventy some years, dozens of tires, chains, gaskets, seat recovers, and a couple, maybe, three slides into the hay bales of Laconia!
It's time to go now. One last ride, one more run before we part ways and you go your way and I go mine. Where I'm going I can't bring along anything but your memories. But those I will never forget! And if someday you once again turn to rust and dust at least you will have lived this time. You gulped the same air that caressed my face and set my heart racing in time to the throb of your pistons and the oh-so subtle slip of supple rubber against the appealing curve of soft asphalt under a warm Sumer sun. A sun I will soon also possess only as memory. There will be other suns one day for me. Perhaps there will one day be roads there too. Farewell, may we meet again!