Espresso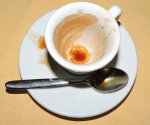 Tue, 06 Oct 2015
The first drink signalled the dead life
when you gesticulated with a meal;
laid the table carefully, 
put washed leaves in a bowl.
The second and third  
helped flavour your devious smile
and marinate the evening 
with courses of sweet amnesia.
The expertly frothed espresso
left dried rings to tell you
you were there, beside
an emptiness that rankled
like the grubby cuffs
of the cross man in the library.
His frown lines are 
knife scores you can't recall.