"Magic for a Day or 24 hours of Trouble" (Children's Fantasy)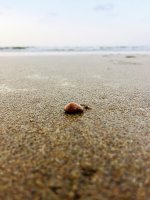 Sun, 30 Aug 2020
The Florida beach was populated with late summer vacationers who had rented houses near the seashore, and eight year old Joey Steven's family was one of them.
Joey and his five year old sister, Daniela, were searching for shells on the beach while his parents relaxed on chairs and kept a watchful eye on them.
"Joey, stay where we can see you and Dani," his mother yelled to him.
Joey waved back to assure her he would but he'd spied something shinning in the sand a few feet ahead and he had to see what it was. He took his sister's hand and dragged her with him farther away from their parent's and over to it.
"What's that?" Dani asked curiously and reached out to touch the shiny thing but Joey quickly stopped her.
"Don't! I think it's the top of a shell but it could be fragile and we don't want to break it. It's better to dig it up." He warned as he took the small shovel out of the pail he carried to put his shells in. He dug the sand away from the object, but the sand was too dry and it kept falling back around the shiny thing.
"We need to get water and soak the sand with it and then we'll be able to dig it out."
"Ok," his sister readily agreed and dumped all the shells she'd found out of her pail.
Joey sighed looking at the little pile of seashells. He would have transferred them into his pail but he'd help her pick them up later.
"Okay, give me your pail and I'll go fill it."
Dani handed her brother the pail and walked behind him to the water's edge.
Joey stepped into the surf as a big wave rolled in. The wave nearly pushed him over as it passed him but he managed to fill the little pail before the under currents rolled back out leaving him in shallow water.
Dani had waited closer to the shore and she giggled as the water rolled over her toes, leaving her feet stuck in the wet sand beneath it.
"That's fun can we wait for another wave?" She asked her brother as she dug her feet deeper into the sticky wet sand.
"No, we should get that shiny shell before someone else sees it."
"Oh, okay," Dani agreed.
They ran back and poured the pail of water over it, forming a sandy puddle.
"Are you trying to drown me?"
The angry voice came from the thing in the sand and Joey and Dani both froze.
"Who said that?" Joey looked closer at the object as the water he'd poured soaked into the sand around it. The shiny shell appeared to move.
The shell grew bigger as it dug itself out of its warm resting place and when it was fully visible it was nearly half a foot wide and the same in height.
Joey pulled Dani behind him and gasped when it spoke again.
"Annoying children, I'll be so glad when summer is over and my home is once again all mine," It said as it shook off the wet sand and gave the urchins the evil eye for having disturbed its sleep.
"What are you?" Dani asked the odd thing.
"I have no definition, none you'd find in a book."
Joey stared in awe at the creature. "You can talk."
"If you understand what I am saying, then I believe you already know that." It said haughtily.
Joey nodded, he did understand it and he thought it kind of looked like a crab but it had a bluish, pearl like glow on its hard shell and the shell was shaped more like a turtles but the thing also had a little feathery head and that kind of looked like a bird still, its legs were crab like but they had talons like an eagles. All of its features were strange for sure, but one stuck out the most. Its eyes were big and human.
Joey admitted he didn't have a clue what it truly was, but it was interesting.
"Are you some kind of a crab?" he asked the thing.
"I most certainly am not a crab, nor am I a turtle or a fish or an odd looking bird. I am just me. That's what I am."
"Are there other's like you?"  
The thing gave him an annoyed look, "Not likely."
"You don't have a family?" Dani asked it sadly, feeling sorry for the thing.
"I am not alone, though sometimes I wish I were. You see, all the sea and land creatures on this planet are my family."
"All of them?" Joey and Dani asked in unison.
"Yes, all of them and they bother me constantly, much like you are now," it huffed giving a big sigh at the end.
"Why do they bother you?" Joey asked it but he was more curious how it could be connected to every creature.
"Unfortunately for me, one is always in want of magic, that's the rub of it."
"Magic," Joey and Dani said in unison and their eyes grew wider with wonder.
"Yes, and that is why I come here for my season. No one is permitted to disturb me here; that was until your rude flooding of my comfortable bed."
"We're awfully sorry but we thought you were a seashell." Joey told it honestly.
"You though I was a seashell?" It asked aghast but then it chuckled, "Oh very well, now that you've seen I am not, you may go on your way and I will resume my nap." The thing closed it eyes and began to shift itself back into the sand when Joey stopped it.
"Wait."
One eye popped open and glared up at the male child.
"Why?" It asked with suspicion.
"You said you're asked for magic all the time and well…I wondered…can we have some?"
A rumble began low in the sand under Joey and Dani's feet and a loud grumble came from the thing.
"Now you've done it!" It exclaimed.
"What have we done?" Dani asked wide eyed with fear.
"You've ruined my vacation for one thing. You just couldn't walk away and leave me in peace now could you." Then it grumbled some words the children did not understood as it rose back up from the sand.
It stared hard at the children and asked, "Do you truly think you can handle magic? It is not easy you know."
"Well, we don't know," Joey answered," We've never had magic before."
"And I do not like the thought of giving you children magic. I can only assume what you will do with it and it is not a comforting image, to be sure."
"We won't make any mean wishes." Dani promised it.
"Do you even know what a mean wish is?" It countered.
Dani shrugged. "Not sure," she whispered. 
"What type of wishes do the earth creatures ask you for?" Joey questioned, thinking that way he'd know what was allowed.
The thing looked around to be sure no other human was listening and then said, "They usually ask to be protected from marauding humans; humans who've decided to take away their lands or hunt them out of existence. I happily give away magic for that."
Joey and Dani's eyes grew wide at his words.
"We don't want anyone's land and we don't hunt." Joey promised confidently and Dani nodded her agreement.
"Not yet perhaps." It mumbled sourly but then it sighed, "Oh very well, you shall have a day of magic, do with it what you will but be careful, for however it ends at midnight, you will have to live with it." It warned sagely as it sank back down and began to shift itself further into the sand.
"What do mean by that?" Joey asked but the thing had quickly and completely disappeared under the sand.
"Where did it go?" Dani asked.
Joey bent down and began to dig the sand away trying to find it and Dani helped him but they didn't see it.
"I'm not sure how far down it's gone, but I can't find it." Joey said worriedly.
"Do we have magic now Joey?" Dani asked her brother with a smile, liking the idea of it.
"No, I don't think we do, not just yet. I think the magic starts tomorrow because if it ends by midnight then it has to be a whole day of it."
"Oh good, then we can make a list of what we want to wish for tomorrow," Dani smiled already thinking of a few things she would ask the magic for, a puppy being the first thing.
Joey wasn't as sure as his little sister of using the magic now; he didn't like the last thing It had said.
What would happen if they made a wish and it was a magical mistake they couldn't take back? He wanted to talk to that funny creature about it but its shiny shell was nowhere to be found.