"The Trouble with Magical Beings" (A Fantasy) Chapter 2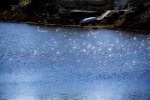 Thu, 05 Sep 2019
"Pleased to meet you sir," Daniel held out his hand even though the large Dolphin-like being had no hand to take it with but he hoped the gesture of friendship would be accepted anyway.
The Dolphite King, named Kale, eyed the human child with little tolerance but since it appeared to be mannered he decided not to annihilate it. There appeared to be no harm to Naia either but in her case, she had a lot of explaining to do.
Kale turned disappointed eyes her way and shook his head, "A child of humans, what were you thinking Naia?"
"I wasn't meaning to talk to him; I got caught in his kite's tail."
"And I freed her sir, and we were talking about her granting me a wish," Daniel spoke up to the larger magical being thinking he'd surely grant him a wish for helping his daughter.
"You admitted magic to it?" Kale ignored the small human, his eyes, a pair of gathering storm clouds, were focused sharply on Naia.
Naia looked down guiltily as she answered. "I wasn't going to grant him a wish," then she turned angrily to the boy and said emphatically, "And I told him I couldn't."
"But why not?" Daniel asked and reached up to touch the imposing, magical being's fin to get his attention.
Kale looked around the deserted beach before turning towards the small human. Was it not late for him to be out alone? Where were his parental humans?
Kale did not trust humans and with good reason. They didn't accept the rights of his kingdom, of any kingdom but their own. Thinking all the other living creatures had no destiny to be considered. No, he had no use for humans and no desire to be among them but…this one was young and he did not feel any concern that this small one's telling of what he'd call a talking dolphin and magical firefly would be given much interest by its elders anyway.
"Are you here alone?" Kale asked the small boy.
"Yes," Daniel nodded.
"No one is watching you?"
Daniel shrugged as he answered, "My mom is at work and my grandmother and little sister are asleep, they go to sleep early and I don't like when the house is quiet. We only live two blocks away from the beach so I walk here. I feel closer to…" he hesitated then said quickly, "I like it here."
Daniel wasn't sure why he'd said so much because he didn't want to talk about his feelings, all he wanted, all he needed, was for this magical creature to grant him one wish.
Naia, who was still upset she'd been caught, grumbled to the boy, "And you know I never said I would grant you a wish."
"I know, but if you have magic, why can't you share some of it? I only want one wish."
"Well, you can't have one," Naia said with finality.
"But why not?" Daniel asked her again. He was not about to give up.
Kale stepped between them. "Enough, both of you are annoying me. What is your name little human?" he asked the small boy.
"Daniel."
"I am Kale and this is Naia, and you're correct, we are magical creatures but our magic is used within our world. It is used to help the kingdoms humans have destroyed. We cannot give magic to humans, not even young and innocent ones."
"Please, I just need one wish." Daniel's eyes implored the large creature to consider it.
Kale sighed and asked him, "What would this wish be?"
Daniel squared his shoulders and tried not to cry as he told him, "I want to see my dad one more time."
Kale frowned asking "Where is your dad?"
The little human's eyes fill with tears and Kale knew the answer. He told the boy with kindness, "Even with magic Daniel that is not a wish that can be granted."
"I know I can't see him now but maybe with a magic wish, I can go back to a day my dad was here and I'd spend that day again with him…just one day."
"You can't do that," Naia said with exasperation but Kale shook his head at her. Then he looked down at the child and told him, "This wish is not simple."
"I know." Daniel nodded.
"Magic has rules too Daniel, rules you have to follow before you can be granted a wish."
Daniel's eyes lit with hope.
"I would follow any rule, any rule you give me."
"Any rule?" Kale's eyes narrowed with consideration.
"Yes," Daniel nodded his head vigorously.
"There would be challenges you'd have to face to see if you are worthy of such a wish."
"I'll take them," Daniel said with confidence.
"I am sure you would try." Kale almost smiled and admiration for the young human was grudgingly given.
"Dad, we can't-"
Kale gave Naia a sharp look and she said no more.
"Tomorrow, come back to the beach at midnight; bring no one with you Daniel and your challenge will begin."
Daniel's eyes lit with joy at Kale's words.  He eagerly nodded his agreement. "I'll be here at midnight…but," his eyes grew concerned as he continued, "my mom gets home around one in the morning and she'd see I was missing. I don't want to worry her."
Kale was glad to see the small human gave consideration to his mother's feelings; it was a good sign of character.
"Don't worry; she will not know you are gone."
"You'll do that by Magic?" Daniel's eyes widened.
Kale didn't answer turning instead to his daughter. "We must go home now or the others will start searching for us."
"Yes, father," Naia nodded. She didn't want any one to know of her forbidden adventure into the human world.
Daniel was awed when, in a blink of an eye, Naia and her father were both reduced to streaks of light. He watched as their lights flew out over the ocean, skipping softly on the water until they dove below the surface, and could no longer be seen.
Daniel's heart raced with hope as he ran home. When he walked into his house, for the first time in a very long time, he didn't feel the emptiness. He went straight to his room and put on his pajamas and got into bed. He couldn't wait for tomorrow.
The moonlight filtering in from his bedroom window shifted across his wall. His mom would be home soon and, although he couldn't tell her he'd found magic tonight, he knew the magic would make everything better for them.
The next day, Daniel watched the clock hands slowly moving across the minutes and wished time would move faster. There were too many hours left until midnight.
"Danny, can you bring my lion over here so he can join my tea party?'
His five year old sister, Jenny, asked him as she poured pretend tea into a tiny plastic cup that was set on a shaky, little coffee table his mom had bought from a second hand store. His dad was going to fix it but that never happened.
"Sure," Daniel mumbled and brought her the little ragged lion. Jenny slept with the stuffed lion every night and it was never out of her sight. Their dad had won it for her at a carnival when she was three.
Jenny hugged her lion and, even though she didn't talk much about it, Daniel knew she felt the loneliness in the house too. He wondered if the magical dolphin would allow his sister to be part of his wish, but that question would have to wait until he'd proven he was worthy to have a wish.
The clock chimed three times and Daniel turned to the old grandfather clock and sighed. It was only three in the afternoon; he had a whole forever yet to wait.
"Daniel, Jenny where are you two?"
Their mom's voice called from the kitchen.
"In the living room mom," Daniel answered.
Their mom walked into the room in her nurse's uniform. She'd taken on extra shifts at the hospital to help pay the house bills, that's what she'd told them but Daniel thought maybe she didn't like the loneliness in the house either and was escaping a house without their dad in it, just like he did by going to the beach at night.
The beach was where Daniel and his dad would fly the kite on every windy day they could. The last time they'd flown it together was the day Daniel wanted to wish back, the day he wanted to do over, and next week would be a year from that day and the week after that, would be a year since he'd died.
Their mom smiled at them as she said, "I've left sandwiches in the refrigerator for you both if you want a snack before dinner and I want you both to listen to your grandma and don't give her any trouble."
"We'll listen," Daniel and Jenny both promised her.
Their mom opened her arms to them and they ran to her and hugged her tightly.
The unbroken circle of their family hug comforted them all but it didn't take away the knowledge that their circle had gotten smaller.