"The Trouble with Magical Beings" (A Fantasy) Chapter 4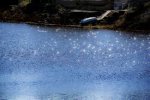 Fri, 06 Sep 2019
Daniel read the rules over and over until he knew all twenty by heart.  Jenny only knew two, not to lie and not to be selfish, that was all she could remember from the list, but he'd be sure she didn't break any of the others.
It was nearly midnight; they were standing on the destered beach waiting for Kale to arrive.
"Are you worried?" Jenny asked him, becasue she was...alittle afraid.
"No, we'll be fine, and besides what can an adventure on harmless, happy ponies do to us?"
"But you asked for transforming robots that had to protect the world, and that sounds scary." Jenny reminded him.
"Hey, don't worry…besides we're not sure which adventure we're getting anyway." Daniel reasoned but in thinking it over, maybe he should have agreed with her friendly little pony world after all.
"Are you ready?" The deep voice behind them made them both jump in surprise.
Daniel and Jenny truned quickly around.
"Why do you do that?"  Daniel asked his heart nearly beating out of his chest.
Kale chuckled, "Sorry, just checking your reflexes. You'll need to think fast in your adventure."
"Why?" Jenny asked her lower lip trembling.
"Oh, littlest one, you don't have to worry, your adventure will not cause you any harm."
Jenny smiled with great relief, glad it wasn't going to be scary.
Naia then appeard flying next to her father and nodded to Daniel, "My dad wanted me to see you off on your adventure."
"That was nice," Daniel said, but didn't really see why Naia had to be there?
"That's not entirely the reason you're here Naia," Kale told her sagely.
Naia turned to her father in surprise, "It isn't?"
Kale shook his head but didn't elaborate, instead he turned back to Daniel and asked, "Are you prepared?"
"I think so"
"Good, then here is your world of adventure."
A circle of water began to churn in the ocean and it lifted up until it was perpendicular to the sand and the center grew wider, opening enough for them to step in.
Daniel stepped back and asked, "What about our mom and grandmother, they'll worry if we aren't home."
"No need to be concerned, as far as your mother and grandmother will know, you are home, they will see you there, going about your normal day."
"Did you make look alike robots?"
Kale just smiled and asked again, "Are you ready?"
Daniel took a deep breath and tuned to Jenny, "Are you ready?"
"Only if there are ponies in there," she said looking up at Kale.
"See for yourself," Kale pointed to the spinning water circle.
The central water began to clear and within it was a world of little rainbow colored ponies, they were jumping over fences, flying through rainbow clouds and in the distance Jenny could see there was a line of  ice cream flavored mountains with rainbow sprinkles were raining down on them.
"Oh yes, I'm ready," she nodded enthusiastically and pulled on Daniel's hand to let her go inside.
"Great, its mustang land," Daniel sighed as he stepped into the center of the water with Jenny and instantly they were pulled inside.
Jenny immediately ran to a Yellow Pony and it bowed down to let her climb on its back.
A black stallion trotted up to Daniel but it didn't look like a friendly pony, for one thing, it wasn't small like a pony, it was a full size horse and it shook its head at him and sneered.
"Am I supposed to get up there?" he asked it.
The horse whinnied and nodded but still didn't bow to make it easy for him.
Daniel had to make several attempts to jump up before he finally was able to get a hold and climb on its back.
Then Daniel and Jenny heard Kale's voice but they couldn't see him through the churning water circle.
"And since she has some lessons to learn as well, Naia will accompany you on this adventure."
"What? Dad no, please no…"
They heard Naia beg but in the next instant she'd landed on the ground next to Jenny's little yellow pony and the water circle had vanished.
Naia looked up but her father was gone.
"You look different." Daniel said wondering why she'd had to change to be in the adventure.
Naia looked down and screamed. Her father had made her human. This was not a good sign at all. Her father had not forgiven her for racing out into the human world and causing this problem. She knew he was disappointed in her and now she had to prove herself worthy too.
"Can you still do magic?" Jenny asked her curiously.
Daniel wondered about that too.
"I don't know," Naia said with a frown.
"Try something," Daniel told her.
Naia closed her eyes and wished and when she opened them she quickly looked down and saw that her clothes had changed.
"That's great!" Daniel said with encouragement.
"Not really," Naia said in defeat, "I wished to change back but all it did was change my outfit. I think my magic's been watered down."
"At least it's still magic and we may need it," Daniel offered the small encouragement.
 "I guess," Naia nodded.
"You might as well pick a pony and let this adventure begin," Daniel pointed to the pack of rainbow ponies standing nearby,
"Sure, why not." Naia stood up and looked over at the smiling little horses, "I guess I'll take the green one, it matches my eyes."
"Not anymore," said Jenny, "they're brown now."
"What?"
"She's right they are brown." Daniel looked at her and confirmed it.
Naia told herself she would not cry. She would not fall into despair. She'd just have to prove herself worthy and earn back her father's respect…and her green eyes...and the rest of her magic powers.
"Come on let's get this adventure started already," she told them as she trudged over to the green pony and asked it if it would let her ride it.
The pony nodded and bowed down to her letting her climb on its back.
"What happens next?" Jenny asked excitedly.
Her answer came from the thunderous sound of footsteps coming from the direction of the ice cream mountains in the distance.
"What's that?" Naia asked them.
Daniel was afraid he knew the answer. It sounded like very large, robots.
Sure enough large metal heads could be seen over the tops of the mountains and they were heading their way.
The ponies and the stallion began to run in a circle until suddenly they took off and the three were flying but not away from the robots, instead they were flying directly towards them.
"How do we turn these things around?" Naia asked.
"I don't think we can," Daniel tried to pull up on the reigns but the stallion just shook him off and continued flying towards the mountains.
"Don't worry, Ponies are our friends and they won't lead us into trouble," singsonged Jenny.
"Are you sure?" Naia asked.
Jenny shrugged, "Mustang Land is like that but I'm not sure of Robot World," she told her and gave her brother a knowing look.
"Okay, maybe I shouldn't have asked for transforming robots."
"You asked for what?" Naia said as the ponies flew to the top of the mountain.
"It doesn't matter, we just have to deal with it now," he said over the noise of the raining rainbow sprinkles that were falling harder and faster and stung a little as they hit.
The two ponies landed on the slippery mountaintop and began to lick the ground, a combination of flavors in rainbow streaks covered the mountain top and there was even a chocolate sauce waterfall cut into the side of the mountain.
Daniel's stallion refused to land on the sticky mountain and instead just shook off his rider.
Daniel landed in a heap on the cold sticky ground and slid a foot down the mountain before he got a hold on an outcropping spoon.
"Great, now how do I get out of this?" he asked sarcastically sitting on the spoon.
"You're going to need a shower," laughed Naia and the sprinkles began to rain down heavier on Daniel at her words, he looked like a human ice cream treat and she laughed harder.
Jenny giggled, "If you wanted some ice cream all you had to do was ask your pony nicely Danny, you don't have to roll in it." Then to prove it, she whispered to her own pony, "Pistachio please?"
Her pony nodded and a large cone of pistachio ice cream appeared in her hand.
'See?" she said triumphantly to her brother.
 The raining sprinkles were annoying and Daniel shook them from his hair.
"How do I make it stop?"
"I think you need to ask your horse," Naia told him.
Daniel looked up at the horse and it appeared to be laughing at him too. "Okay, please can you help me out of this?"
The horse whinnied and in the next instant Daniel was clean and sitting comfortably on his back.
"Thank you," he whispered with true gratitude to the horse.
"Where did the robots go?" Naia asked looking around, "I don't see them now."
Daniel looked through the now softly falling sprinkles and didn't see them either but then he noticed a few large boulders of ice cream moving suspiciously.
"Look out," Daniel warned but it was too late.
The movement of the large boulders caused the mountain to shift and the two ponies with their riders slid half way down the mountain, but they quickly managed to fly back up to Daniel and they all watched in fascination as the boulders unfolded themselves into large imposing robots.
Soon an army of full size robots with large boulder like heads stood regimentally before them.
"I am Granite who are you?" The lead robot asked Daniel with a loud thunderous voice.
Daniel gave him a friendly smile, maybe this was his part of the wish, he'd asked to be the leader of transforming robots and to protect their world from invaders.
"I'm Daniel and this is my sister Jenny and our friend Naia, I think I'm supposed to be your leader against invaders," he said with a wide confident smile.
The booming laughter from all the robots shook the ice cream mountain and a volcanic like flow of ice cream lava shot out of its top and rained down on Daniel and Naia, Jenny appeared to be safe from the ice cream flow.
The lead robot, Granite, held his side as he laughed harder.
"It's not funny," said Daniel wiping ice cream from his eyes.
"Oh, but it is" Granite said straightening to his full height as he looked directly at Daniel and smiled, but his smile was not friendly, "You think you are our leader against invaders? Now how can that be, when you are the invaders…and now our prisoners?"
The robots began to walk threateningly towards the three riders.
Jenny had watched the mean robot with little concern but at his words her little heart raced. Nobody bullied her brother, "Ponies away," she called out.
Naia's pony immediately flew next to Jenny's but it took another scary second before Daniel's stallion obeyed the command. The three horses were lined up as the robots came within reaching distance to them and just before Granite could grab Daniel, all three horses took off with lightning speed.
The three flew high into the clouds escaping the robots…or so they thought, until they looked down below and saw the robots were shape shifting into jet planes.
"You had to ask for transforming robots?" Naia said accusingly to Daniel.
"Let's just get out of here fast."
"I know where we can hide…To the pony cave," Jenny yelled, and the horses hit warp speed as they the riders held on for their life.