Meeting Ourselves Coming Back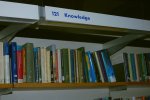 Sat, 29 Nov 2014
I visited the new Birmingham Library to renew my vows and give thanks.  I had never fallen out of love; I'd just been distracted by the easy gratification of the internet, the audio-book, the e-book. Everything appeared to be at my fingertips.  Then I went to the library and realisation surged back.  It had always been so much more than the intimacy of word and meaning.  The physicality of being in the library is a sensory experience.   Anticipation of textual encounter is not the only thrill.  The library is full of other people; bodies and memories of them.   We connect without the need to communicate.  We trespass on each other's experiences and leave a mutual trace. The book we hold has been held by many.  The library is a world with a different dimension, past, present and future; all are one.  Libraries are full of time travellers.
The new library is sensational, but you have to be there to know it.  I floated through its core on the escalator, higher and higher though the compelling space.  Other spaces opened out, the reality that has become memory.
My cheek soothed against the glossy cool of picture books in Kihikihi primary school library. In this tiny library in a tiny school, I found the universe of books.
Light falls through the window of Te Awamutu library.  Excitement echoes from the municipal swimming pool next door.  I am the only child in the library.  This is more than sanctuary; it is a portal to new possibilities.  By flipping open a cover, an undiscovered world opens up.  The day is hot, the library is cool.  I can return to this place at will, over 40 years later.
Birmingham in the early 80s was just as The Specials sang, 'A ghost town'.  We were the ghostly youth clinging to a dreamlike life.  Pushing our frail children through dank subways, up and down stinking slippery stairs to find some sort of light. The concrete library was brutal, but that was just on the outside.  Read your way out of this.  Read and hope.
I continue upwards through the new library on a blue-lit travellator, celestial transportation.  Then one must walk to earn the view; on and on and out into the garden, a hanging garden.  The old central library is a crumpled shell, an empty casing next to the shiny metamorphosis on which we perch.   The building means nothing without us in it; its life source is the electric flow of people.
'Look, it's the end of Birmingham,' a child points over the balustrade to a stretch of green.  From here you can see; it is beautiful.  The people are beautiful, walking though the garden and looking down at where they have come from.  From up here we all understand, we love this place.  We shall leave a part of ourselves behind, to find another time.