Reykjavik 29/3/16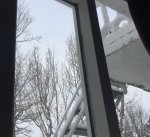 Tue, 29 Mar 2016
1 likes
Lying in bed beneath a window, watching fat flakes fall through twiggy fingers of skeleton trees, listening to Kurt Vile, wondering how you got through the winter and where your plump cheeks went.  
You are a man, I suppose, thin and beautiful like the ghostly trees outside.  
Watching the world through glass, remembering the blue and soft gold of spring, just yesterday, when the only snow was on the mountain tops.
Overnight, memories crowded in, clouds drew over us and now they shake out their downy quiet of dreamtime.
You move languidly, as though in liquid, an exotic fish behind glass.