Bring Out Your Dead - Part 18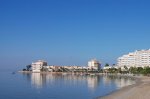 Tue, 07 Jun 2016
"It was that first roundabout that did it" 
Lawrence and Amber Hamble were hunched over coffee in a small bar in El Altet, on the outskirts of Alicante.  Lawrence was trembling gently and had a slightly haunted look, Amber was moodily stirring her coffee.
"I know, dear," She said, kindly, "but we will need to try again.  We've still got quite a long way to go." 
Amber had reviewed her options and had realised, to her horror, that Lawrence and the hire car were her only means of getting a bed for the night; hence a gentler, more understanding approach was called for, if Lawrence was not to become even more of a quivering wreck than normal.
"It's bad enough, figuring out which way to go, without all the police and repair trucks blocking the way."  Lawrence shivered violently, transferring a good deal of his milky coffee to the saucer in the process.
"Yes, I know" Amber nodded, "I thought for one moment that you were going to go straight over it!"
"Well, somebody had, from the look of it!"  Lawrence pointed out, "Anyone would have thought a Chieftain tank had been through, what with the rocks and bushes thrown everywhere"
"Do you think you'll be able to try again, in a little while of course?"
"Just let me have my coffee and get my bearings.  I'll be fine."  Lawrence averred with more confidence than he actually felt.
******
"I wonder if I might have a few moments alone, with the deceased?" Chantelle smiled sweetly at Joshua and Archibald.
"Well…" Joshua hesitated, "it is usually the prerogative of close family and friends."
"Oh, I quite understand" Chantelle reassured "but, you see, Sir Lewisham and I had a very special connection"
Joshua looked sharply at Archibald to nip any sniggering in the bud, but Archibald was clearly transfixed by the cleavage heaving gently in his sightline and was oblivious.
"I think, under the circumstances, we may be able to allow you a minute or two" Joshua conceded, "My colleague and I will be at the roadside if you need us.  I have to make a few telephone calls to arrange for Sir Lewisham's onward transportation." He confided.
"I'm most grateful" Chantelle fixed him with her beautiful blue eyes and beamed at him, causing a certain reddening of Joshua's usually pallid complexion.
"Come, Archibald, we must leave Miss…?
"Lace.  Chantelle Lace" Chantelle beamed again.
"Miss Lace to pay her final respects"
Archibald dragged himself, reluctantly, from his close inspection of Chantelle's bosom and trailed after Joshua out of the Undertakers', with many a backward glance, and onto the pavement.
Once she was certain that she was alone with the coffin.  Chantelle began her investigation.
"Frankie!  Frankie!" She hissed.  There was no reaction from the apparent corpse, smiling benignly in the coffin.  She reached in and gently felt his wrist - was there a faint pulse?  She couldn't be sure, but the body didn't have the cold, stone-like feel that she would have expected from a late Frankie Knight. 
What had happened?  He couldn't have died, and been attended to by an undertaker, in the brief amount of time since she had last seen him.  Yet, here he was, in a coffin, apparently lifeless.  There was something decidedly strange about all of this.  She had a sinking feeling that this might be all part of Frankie's 'plan'.  Which begged the question, if that was the case, were those two undertakers in on it, or were they just as much in the dark as she was?  She had to find out.
******
Out on the main road, Josiah was engrossed in what appeared to be a series of heated debates on his mobile phone, whilst Archibald stared out at the brilliant blue of the Mediterranean and thought of Chantelle's eyes, amongst other things.  After several minutes of conversation, during which Josiah's tone turned from demanding to bickering and, finally, pleading, he stabbed the red Call Ended button and turned to Archibald.
"Well, that's just dandy!"  He covered his face with his hands and breathed deeply.
"What's up, Mr. O?" Archibald awoke, reluctantly, from his reverie.
"It would appear, Archibald, that we remain persona non grata as far as the aviation industry is concerned."
"You what?"
"I mean, that we cannot, apparently, fly back to the U.K., with or without a corpse in our possession.  No airline will touch us, following the debacle of our enforced disembarkation in Paris."
"Oh!"  Archibald considered this state of affairs and cheered up a little, "Does that mean we've got to stay here for ever and ever and ever?" He asked, excitedly.
"No, it does not, Archibald!"  Josiah snapped, "How could we, when we have a professional duty to deliver Sir Lewisham to his final resting place by the end of this week?  Have some sense!"
"What we gonna do then, Mr. O.?"
"At present, Archibald, I have no idea." Josiah replied, gloomily.
******