Bring Out Your Dead - Part 19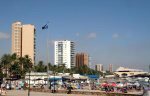 Mon, 13 Jun 2016
Continued from Part 18
Chantelle was in the slightly ridiculous position of having her left ear clamped against Frankie's chest, in a desperate effort to determine whether he was alive or not, when Archibald lurched back into the room.  Quite which of them was the most embarrassed, it would have been difficult to say.  Chantelle was the first to recover her composure.
"I suppose you're wondering what I was doing?"
"Oh no, miss," Archibald lied as he turned quietly puce in the full glare of Chantelle's cleavage, "Only Mr. O. said I was to put the lid on the coffin if you're finished with the st…, the deceased?"
"Well, just to put your mind at rest, Sir Lewisham used to like me to rest my head against his chest, so I thought I would do it again, for one last time.  Just to show my respects, you understand?"
"Yer…yes, of course." Archibald nodded, furiously, "If you're sure you've finished, I'll just get on, shall I?"
Chantelle still couldn't be sure whether Frankie was alive or not.  She had thought she heard a faint heartbeat, but she could have been imagining it.
"I know this is going to sound ridiculous but, do the coffins have air holes?"
"Well, no miss" Archibald stated flatly, as he hauled the lid onto the coffin, "there's not much call for it, if you get my drift?"
"Yes, of course, silly me!  I'm afraid that this whole dead body business has rather thrown me.  I don't know how you cope.  It must take someone with very particular qualities to work in this profession" Chantelle fluttered her eyelashes at Archibald, who promptly trapped his thumb between the lid and the side of the coffin.
"Fu…" He winced and gained control of himself before continuing, "Strewth! Not sure about that, miss.  It's just a job, like anything else, I reckon.  You get used to it."
Archibald decided that the best way to distract himself from Chantelle's overpowering presence was to focus on his work.  He set to with the screwdriver with particular purpose.  After a few minutes, he stopped and looked at the coffin with bemusement.
"Anything wrong?"  Chantelle asked, sweetly.
"Well, it's funny.  I've just been screwing…" The collision of Archibald's words with his underlying train of thought caused him to temporarily lose his way with the conversation, "I mean, I've been fixing, well, trying to fix the lid to the coffin, but the screws don't seem to be long enough.  There's something wrong.  I'll have to go and tell Mr. O."
Archibald leaving the room gave Chantelle one last chance with Frankie.  She levered the lid up and hissed at him
"Frankie, if you're not dead, you're going to wish you were by the time I've finished with you!"
******
Josiah was in a state of deep gloom.  He prided himself on being resourceful and inventive.  Indeed, this whole trip had been, in his estimation, a series of challenges which he had successfully overcome.  However, this latest setback had left him bereft of a solution and he was currently contemplating the distinctly unsavoury prospect of having to tell Lady Carnock that he was unable to bring her husband's body home from Spain.  Even the thought of having that conversation filled him with dread.  He was dragged from his contemplation by the sight of Archibald Thurble hurrying out of the Chapel of Rest.
"Mr. O., Mr. O., we've got a problem!"
"She hasn't collapsed in there, has she?"  Josiah's misgivings about leaving Chantelle with the body rushed to the fore.
"Who?" Archibald asked, puzzled.
"The young lady, Sir Lewisham's masseuse."
"Oh no.  She's all right.  She'd got her head on his chest when I went in."
"Had she indeed?"  Josiah was surprised, but everyone reacted to grief in different ways and, from the sound of it, she and Sir Lewisham had been rather close.
"It's just something she used to do for him when he was alive" Archibald explained.  Josiah quietly thanked whichever gods were watching over him that she had restricted her activities to this.
"So, what's the problem?"
"Oh, well, it's the screws.  They don't seem to go in like they should."
"Really?  Well, it is a Spanish coffin, perhaps they have different methods to our own.  Their ways are not our ways, Archibald.  Can you attach the lid at all?"
"Oh yes, I think so.  It's just that it won't be all that…firm, you know?"
"I think we can rest assured that Sir Lewisham is not going anywhere in a hurry" Josiah smiled, grimly, "I should just carry on, as best you can, Archibald.  For my part, I need to contact his relict"
"His what?"
"His widow, Lady Carnock" Josiah explained, "to tell her the bad news."
"Well, she knows he's dead," Archibald said, thoughtfully, "I mean, it was her that sent us out here in the first place"
"I mean that I need to tell her that we are unable to bring his remains home, at least for the foreseeable future"
Their conversation came to a grinding halt as they both observed the voluptuous figure of Chantelle Lace sashaying toward them.
"Thank you so much, Mr. Oakshott, for allowing me to spend a few moments with the deceased.  I'm most grateful."  She beamed at Josiah, which had an unsettling effect on his equilibrium, "If I can repay your kindness in any way…?"
Josiah was acutely aware that he could think of a number of ways, and found himself blushing deeply.  Archibald, for his part, had almost reached a catatonic state.
"Think nothing of it, dear lady" Josiah said, recovering his composure a little, "I regret that, short of being able to spirit Sir Lewisham's remains magically to the U.K., there is nothing you can do to help"
"Oh, what's the problem?"
"For reasons which would take too long, and be too embarrassing, to relate, we find ourselves currently unable to fly the body home, as we had originally intended.  I am, therefore, at something of a loss as to what to do."  Josiah recounted, mournfully.
"That is a bit of a bind."  Chantelle agreed, "Have you thought about the ferry?"
"Ferry?"
"We've got ferries at the bottom of our garden" Archibald commented from somewhere very far away.
"Archibald!" Josiah snapped, "Which ferry would this be, young lady?"
"I was thinking of the Bilbao to Portsmouth crossing.  It's quite a drive from here but it could be one solution?"  She smiled, brightly.
Josiah reacted as if he had just had his death sentence commuted to life imprisonment.
"That could be an answer."  He agreed, "Time is not on our side, but it would be better than nothing.  How long would it take, to get to Bilbao from here?"
"Well, if we had a good run, maybe 8 hours or so?"  Chantelle mused, "Then the crossing is roughly 24 hours.  If we set out pretty quickly, we could be there in time for tomorrow morning's sailing."
"We?" Josiah asked, bemused.
"Sorry to be so presumptuous" Chantelle fluttered her eyelashes and blushed, prettily, "It's just that I've been planning to go back to England for some time.  I hate flying and I would really appreciate the company, if you think you could make room for me?"  She placed a hand on Josiah and Archibald's forearm and stared deeply into their eyes, "I think we could have quite an interesting journey, don't you?"