Bring Out Your Dead - Part 22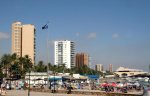 Wed, 20 Jul 2016
Continued from Part 21
"So…Archibald is it then?"
"Hmm?" Archibald had been taking in the coastal scenery, as best he could as the Mazda accelerated smoothly but insistently along the coast road. "What's that, Miss Lace?"
"I was saying" Chantelle shouted over the noise of wind and road, "what should I call you?"
"Oh, well, Mr. Oakshott calls me Archibald"
"I know he does.  Seems a bit formal though.  What do your friends call you?"
"Ah, well, I don't really have many…friends, that is"
"Really? Why not?"
"Well, it's the job you know.  People think it's weird, dealing with dead people all the time" Archibald said, glumly.
"Ha!  I'll bet they wouldn't say that if you were a famous detective"
"No, I'll bet they wouldn't" Archibald mused on this concept for a while, "Detective Inspector Thurble.  I reckon that sounds pretty good"
"I do too.  You couldn't be much worse than those two back at the bar.  How did you say you knew them?" Chantelle asked, innocently.
"Oh, well, they were on our flight out you see.  I'd been telling Mr. O., what my mum said about being an undertaker"
"What was that, then?"
"Well, she said there were two things you could be sure of in this world and that was death and taxis, only I'm not sure I've got that right, now I think about it"
"So, that's why you became an undertaker?  Because your mum wanted you to do it?"
"Yeah, I suppose so.  Plus, I wasn't much good at anything else"
"I don't understand how the defective detectives come in to this?"
"Oh, yeah, well I was telling Mr. O all about this, then I went back to listening to my music, on the headphones, like.  Then I realised Mr. O. was saying something to me, but I couldn't hear him, so I asked him to speak up, and he said 'we're all going to die'.  That was just as the engines went a bit quiet."
"I see" Chantelle responded, dubiously, "what then?"
"Well, it all went a bit bear-shaped.  It went really quiet for a bit, then lights and bells were going off all over the shop.  Next thing, Mr. O and me were asked to go and sit where the crew go, back where the toilets are you know?  Then those detectives came to ask us some questions"
"Because Mr. Oakshott had said 'we're all going to die'?"
"Yeah, they seemed to think we were terrorists.  Well, not the detectives, not really.  They thought it was just funny.  But, by then, the pilot had turned the plane round and landed at Paris."
Chantelle was desperately trying to contain the laughter welling up inside her.  Eventually, she gave up the unequal struggle, pulled the car in to the side of the road and abandoned herself to it.  Archibald looked on with some concern.
"Oh, my god!" Chantelle exclaimed as she wiped the tears from her eyes, "I've heard some stories in my time, but that just takes the cake."
"They were pretty good, really.  The detectives, that is.  Much better than them French shirty blokes.  Of course, they knew me and Mr. O. before that"
"Really?  How was that?"
"Well, I…" Archibald, for once, decided that discretion was the better part of valour, "I'll tell you about it some other time."
Neither of them noticed the car that slipped past, with an embarrassed D.I. Wood trying to shrink into his seat so as not to be conspicuous.  'If there's one thing you don't want to do, when tailing a suspect,' he reflected, 'it's to overtake the car concerned.'
******
Those enjoying a drink in the shade of the canopy at the front of the Hotel Ribera Playa, would have noticed a small car which didn't so much park in front of the hotel as ingratiate itself onto the pavement.  The car had a depressed look.  So had the occupants.
"Never again!"  Lawrence's forehead was pressed against the steering wheel and both of his hands were clamped tightly to it, in the recommended 'ten to two' position.
"I thought you did really well, sweetheart" Amber lied, encouragingly, "and look, here we are at the hotel."
"Thank god for that!  I don't think I could take much more"
"Now then, you're getting yourself in a state again.  We're here now.  Let's just get our things and find our room"
"Yes, you're right.  But, Amber…"
"Yes, darling?"
"There's just one thing."
"What's that, Lawrence?"
"I can't prise my hands off this wheel"