Bring Out Your Dead - Part 33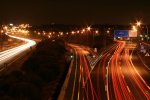 Mon, 01 Apr 2019
Continued from Part 32
Archibald Thurble woke with a start and looked about him suspiciously, as people tend to do when woken from a deep sleep.  Unable to lay the blame for his wakeful state on anybody or anything, he yawned and stretched, shoving Josiah sideways with some force.
"Are we there yet?"  He asked, despite all the evidence to the contrary.
"I take it you have deigned to rejoin us, Archibald?" Josiah snapped, grumpily.
"Welcome back to the land of the living, Archie!" Chantelle beamed at him from her position behind the wheel, "Well, mostly the living" She nodded toward their 'passenger' in the back of the van.
"I was having this really weird dream…" Archibald began.
"I don't think we really need to know about that" Josiah was definitely feeling out of sorts, a consequence of lack of sleep and being used by Archibald as a makeshift pillow.  In addition, he had firm views about people who recounted their dreams, none of them positive.
"Aww, let him tell us, Mr. O.!" Chantelle intervened, "it might while away a dull few minutes"
"Oh, if you must, Archibald" Josiah capitulated, grumpily.
"Right, well, I was on this island like, and I was being chased by this flamingo dancer…"
"Flamenco!" Josiah corrected.
"No, I don't think so Mr. O., 'cause she was dressed as a flamingo.  Any road, I was being chased by her and this other bloke and he had a sort of red cloak thing on that was all trimmed with white fur and he had this sort of little crown on his head."
"Sounds like your Sir Lawrence" Chantelle pointed out.
"I could not possibly comment, Miss Lace, I have never seen the late Sir Lawrence in his full regalia" Josiah remarked.
"Haven't you?" Chantelle mused, "I have!" She added quietly.
She flashed a sideways glance at Josiah and was rewarded with the sight of his eyebrows shooting up his forehead at a rate of knots.
"I do recall that you were acquainted with the deceased" Josiah said, after a while, when he had recovered his composure.  What he actually recalled was that Chantelle had told him the late Sir Lewisham had gone to meet his Maker during one of her massage treatments.  He didn't dare think about how the baronet's robes might have been involved.
"So these two were both yelling at me that I should go and get knighted!" Archibald continued with his recounting, oblivious of the other ongoing conversation, "Well, I think that's what they were shouting.  It all got a bit confused."
"How rewarding your slumbers must be, Archibald" Josiah muttered, sarcastically.
"Oh, I like my sleep" Archibald confirmed, happily.
******
Lawrence and Amber were numbly observing the body of their recent travelling companion.  Neither moved nor made any sound.  The minutes seemed to crawl by like hours.  Only the flash of headlights as a car hurtled past galvanized them into action.
"What are we going to do?" Lawrence asked with more than a degree of panic.
"We could kick him into the undergrowth?" Amber nodded toward the vegetation to their right.
"You can't do that!" Lawrence was horrified.
"Why not?"
"Well, because…it's just not right"
"You do remember he was threatening to kill you, don't you?"
"I know that, but still...he's a fellow human being and he deserves to be treated properly"
"Alright, what do you want to do with him?"  Amber decided to put the ball firmly back into his court.
"We'll put him back in the car" Lawrence said, determinedly.
"Oh yes?  What do you propose to do with him?  Prop him up on the back seat with his seat belt on?  If you want, I could probably tape the gun to his hand and have it pointing at you!"
"Don't be silly, Amber.  Let's just get him in the car before anything else comes along the road"
Amber could see the sense of not being found standing over a dead body, so she helped Lawrence to haul the late Frankie Knight onto the back seat of the car.  He was surprisingly heavy and they were both exhausted by the time the body had finally been wrestled into the confined space.
"Get him…" Lawrence panted, "get him under the bags, like he was before"
Amber hastily rearranged the various bags of their luggage so that Frankie was, mostly, covered. 
"Now what?" Amber looked at Lawrence desperately.
"I'll try and change this tyre as quick as I can.  You get back in the car and keep an eye out for anyone or anything coming near us.  Sound the horn if you see anything.  With a bit of luck, we can be back on the road and out of here pretty soon"
Lawrence was amazed at how blind panic and a huge infusion of adrenaline had made the task that much easier.  Things that he had found beyond his limited strength before, just seemed to happen without any effort. 
The spare tyre was on and seemed to be reasonably secure and the flat was back in the boot.  Throughout he had been expecting a heavy hand to descend on his shoulder at any minute, so it was with a sense of relief that he jumped back into the passenger side and they set off again.  He was filthy, he was exhausted and they had a dead body concealed on the back seat, but at least he hadn't been arrested…yet!