Noises off!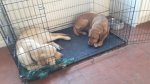 Wed, 24 Nov 2021
All was quiet in Turnpike Cottage.  Darkness had fallen, the heating was on, a selection of cats had settled themselves around the furniture, Mom was watching television and Flynn was tucked up in bed.  Everything was as it should be, except…
"Snrf…Snrf…GnnnROOAAARGH"
A dreadful noise echoed around the kitchen.
"Gumf..Humf..GrrAARGGHnerf"
India opened one eye and glared at her companion.
"Rohan!" She hissed.
"Gnnf..Rowf..PrrGRAAAAGHnumf"
"ROHAN!"  She shouted, loudly.
The appalling noise stopped and Rohan lifted his head.
"Wha?" He asked, in an irritated tone.
"You're snoring again" India snapped.
"Am not" Rohan settled back down again.
"You most certainly are!  I should think they can hear you right the way…"
"Hmf..Hmf..GnnnROOAAAARGH"
"ROHAN!!"
"Wha' now?" Rohan looked at his companion through bleary eyes.
"You're doing it again!"
"Doin' wha?"
"I just told you, you're snoring"
"Don't thnore" Rohan insisted.
"You're making a terrible racket.  I can hardly hear myself think, let alone get to sleep…unlike some I could mention"
"Don't thnore!" Rohan reiterated, "Anyway, I can't hear anything"
"That's because you're asleep, which is more than can be said for anyone else!"
"Well, I don't, tho there"
"Don't what?"
"I don't thnore" Rohan said, emphatically.
"Do you even know what 'snoring' is?"
"Well…no" Rohan admitted.
"It's the noise that some people and, apparently, some dogs make when they're asleep.  It happens when you breathe in" India explained.
"Well, I don't!"
"Don't what? Breathe in?"
"No!"  Rohan giggled, "don't thnore!"
"Well, someone is, and it certainly isn't me!"
"How do you know?"
"How do I know what?"
"How do you know it'th not you thnoring?"
"Because I'm the one who keeps being woken up by it!"
"Perhapth it'th your thnoring that'th waking you up?"  Rohan suggested, reasonably.
"IT'S NOT ME THAT'S DOING THE SNORING, IT'S YOU!" India yelled.
"Alright, alright, no need to get upthet!" Rohan looked suitably hurt by all the commotion.
"Look, I've got an idea" India took a deep breath to calm herself down, "I can't get to sleep, because of your snoring…"
"Don't thn…" Rohan stopped as soon as he saw the expression on India's face.
"As I was saying, I can't get to sleep because of your snoring.  But, if you stayed awake and let me go to sleep first, then it wouldn't matter if you started snoring because I would be asleep!  What do you say?"
"Erm…ok" Rohan nodded.
"Right, so I'm going to curl up and go to sleep and you're going to sit there and stay awake until you're sure I'm asleep, ok?"
"Ok, Ninja" Rohan grinned.
India decided to let the name pass, turned around three times and settled down at her end of the crate.  She was just drifting off, picturing herself bounding across the field in the summer sunshine, when:
"Ronf…Gronf…MnnnnGRAAAAGHumf"
India sprang up.
"You're doing it again!"
"Wha?  No, I'm not!  I've been sitting here minding my own buthineth" Rohan said in a hurt tone.
"You've fallen asleep, sitting up!  You're impossible!"
"Thank you" Rohan replied, graciously.
"How many times do I have to tell you that it isn't a compliment?  Look, why don't you go and sit with Mom, eh?"
"Alright, I will!"  Rohan padded off into the living room in high dudgeon.  As India settled down again, she heard Mom's voice saying;
"Hello puppy!  Are you coming to sit with me?"
There was the sound of some scrabbling and crashing around.  Then, after a few moments of relative silence;
"Grrnf…Mrrmf…GNAAAARGHRUFF!"
"Rohan, you're snoring!" Mom said, "and you've made a smell!"
"Gurunff" Came the reply, followed by some sotto voce tittering.
'Thank heavens for that', India thought as she drifted off to her peaceful place, 'he might be snoring, he might be flatulent, but at least he isn't in the same room!'
You can find all of the latest stories about Rohan and India in the recently published collection 'Waggy Dog Tales 2', with all profits going to support TURN Education.