Belief System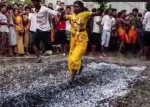 Fri, 22 Dec 2017
Belief System
P K Routray
A gigantic elephant
as a weak  infant
is kept under control
being tethered to a pole
where it fights but fails .
The tethering system prevails.
In spite of painful burnishes eludes it, the freedom
in the process, in it by then develops a belief system
"Impossible it is to break free from such a tether"
To break it a grown-up elephant never attempts further
In India man walks barefooted over a fire bed.
Least care they even when the bed is hot red
to get rid of incurable diseases and to dispel evil spells
often with a positive result - a fact not a fictitious tale.
To the mental power, a belief system can mar or mend
blessing one with endless hope or crushing with hopeless end.