A humble gift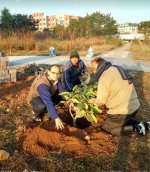 Wed, 25 Mar 2020
A humble gift
Gratitude in any magnitude
can never touch the altitude
of a mother's love, priceless,
her care and sacrifices,
her penance and pain
and her love and strain
that row her offspring
across life as a human being.
Adore I on my inner altar
my Alma-mater as my second mother.
At these twilight days
the days with her when I gaze
I feel belittled and guilty
that I have failed in my ordained duty
to offer her my gratitude
when my inner voices feud
"Can it be my contribution
to uphold and enhance her reputation?
Can it be upholding human values
taught by her never to lose?"
On logic with counter logic
both divine and barbaric
my conscience decried my failure
as against dream to be a world-beater
when I bade her adieu fifty years back
all memories frustrating me running as a flashback.
when I have had to go physically to her loving lap.
as my batch mates meet after half a century gap
The thoughts pensive
that her nothing I could give
as on both fronts my failure
dreamt while being with her
dejected me, I had to repent
over the life I had already spent
serving for own bread and butter
brutally murdering nature
degrading the creation being poorer
than when I was entrusted to see it prosper,
sacrificing values to successes
to the demand of my selfish purposes.
Brooding over my days with her
with then from grass blade to professor
I prayed the Lord for atonement
and ways to her me how would I present.
Flashed in me
on her to plant a banyan tree
mother India's national tree
that hardly now we see
being dispensed away
to run the national highway
for human prosperity
and a nuisance for electricity,
Trees of centuries-old
tranquilizing to behold
mute witness to human dexterity
are succumbing to human brutality.
To my astonishment
every event by event
happened over distant communication
from sapling, plaque and authority's permission
Even to plant, the guest
was at providence behest
from among alumni dear to Alma-mater
who left all allures to serve her.
On the pro-republic day of twenty-twenty
in its chilly morning, her choicest alumnus planted it.
It all hampered on its own
as it seems, the tree has divine destination
Dreamt then I a distant day
many many decades away
the banyan tree in its ecstatic grandeur,
its green foliage, hanging root to allure
with no monkey, no crow , no vulture
in place new species, me that blurs
Professors and students having open-air discussions
Pray the Lord, float there for them many Newtonian lessons.
that will breed in them many Nobel laureates of future
who will be sympathetic to creation and nature
promising not to destroy and disturb the creation
for human greed as their predecessors have done,
the cool air the serene atmosphere below the tree
its past history from net the students can imagine to see
the deities of the village at its trunk
the white anthill over meditation monk
many such thoughts blaze my spirit/
To my Alma-mater, as it is my humble gift
P K Routray
In the service of Lord
(I passed from NIT then REC Rourkela Orissa India in 1970. On the occasion of Golden Jubilee A banyan tree was planted.)