Leaving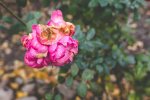 Mon, 29 Jan 2018
1 likes
I can see the summer, in the shadow of her days
therefore I shall say to her
speak kindly to me when you utter harsh your words.
For what is love if not the sweetest sound
that ever left your lips.
Maybe, she will let me kiss her tenderly
permit me roses picked,  with petals strewn about her feet
for not to mourn,
as summer slips her gown of warmth
is not my mood to do.
Go leisurely my lady of fading lingering days
and as you leave my memories view
take nothing, of that which cannot be returned.
Then please I say, swiftly to return
for this coming of your death
 is not your finest hour.