Sharing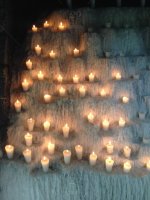 Tue, 23 Jan 2018
1 likes
I watch as the candles cry
themselves cold
stare out the oil lamp - until it burns dry
at the heart of all this ridiculous, beats
the sublime.
 Me just a simple follower of the flock
loving you
always addicted to your addictions
in all their unpalatable truths
disciplined in all of your art forms.
White suffused with red, a smear by any
other would simply be pink.
Extracting sound bites
the shadows of life - fast forwarding on the replay dial.
Distant on some calling bay
the tide long since ebbed.
In raindrops rare - a city glows
as I in silence lie about my bed
bleached sun-kissed roots anchor
the rawness of this canker.
Last night I did not play with sleep
instead, I fell into this madness of sharing
what is mine?