Thank You Mom,Is Never Enough! For Torscot 2:)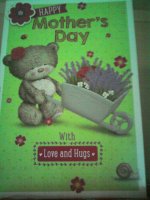 Sun, 15 Mar 2015
I know I don't need an excuse
Like mothers day, to show you
How much I care,or how grateful
I am to know your always there.
But I hope the card was ok and the
Gifts made you you smile.
I know you would walk
Miles for those Liatris flowers.
I also got you some sherry,which
I know your really like.but after
Finding out about poor aunt flow,
I felt a little low, and I drank it all
While crying on my new wooden
Floor.
I feel awful,but you will forgive me,
That's what great moms do. And
No one will ever compare to you.
Not only are you like an IPhone to
A teenager, very important.You are
My sun,without you my planet would
Not exist.