Woke Up This Morning, (originally For Competition).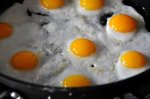 Fri, 27 Mar 2015
Woke up this morning feeling
Fruity for my gal Lucy,but
Instead I had to settle for my
New best friend Mr muesli .
You see she as me on this
Health kick, which I know she
Only cares,but when your like
Me 62,bald as a coot,(which
By the way,these water birds
Arn't actually bald,the term is
Used due to the appearance
Of baldness,their white markings)
You know,er where were I,
Oh yes, with a big Wobbly
Belly the size of five heavy,
Old style tellies,there's
Not much any one can do.
I don't suppose the crafty
Fried eggs every day help,
But what's a man supposed
To do,you see I gave up me
Guiness,which wasn't easy
 I wont deny that.
But losing me favorite
WW2 British Military Boots
While visiting me beloved
Ireland,and falling in the
Grand Canal,last December
Night,I knew me drinking
days were over for good
I, the freezing cold dirty
Water didn't help either.
And bare in mind,I haven't
Smoked er,let me see,going
On 8 months now,since almost
Burning down  poor Siobhan
House,while minding their
Babby's,when they went away.
But to be fair my very energetic
Nephews all three of those little
Monsters are under five,and
Subjected me to hours of
Cartoons on TV, while drawing
On uncle Stew's exhausted face.
So I don't think a few little
Goodies for this good chathloic
man will do any arm,but I wont tell my
Unforgiving lady, because there
Would be no síochán,only the old,
Hard wooden broom, and no bedroom
Vroom,if you get me drift,
Now father Liam, thats enough
For any man to admit in confession
For one day,I better be getting on
Me way,but I'll do me best to be
In church same time next year.
Slán go fóill.