Light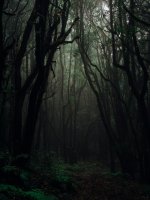 Wed, 06 Oct 2021
1 likes
sitting here, in this 
infinite maze
a forest of my own thoughts
depression like brambles
happiness like a dangling apple.
Anxiety, a brisk breeze in a too cold clearing
Dysphoria blocks the sun with its endless branchess
Who? I dare say.
Who said i couldnt be.
Was it me?
Did i sabatoge myself?
Was it all just a mirage? 
A passing fancy?
Like that of the phases of the moon?
No.
It can't be.
It musn't be.
I know it isnt
I feel each and every bramble
i can feel the branches!
I can feel the small rays of sunlight floating through
like dandelion seeds in that brisk breeze
That i call
Anxiety. 
This endless forest of my own thoughts.
With a gentle touch and a little kiss
A small hug and a push.
I laugh now.
It doesnt seem so endless.
I can see the Sun.