SHIFT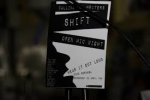 Tue, 17 Nov 2015
There is that saying about a good idea whose time has come. When we thought about producing a local magazine for new writers, back in the glory days of 2013 and the City of Culture, we had an idea but nothing else, except the daunting prospect of printers, advertising and where we would get the money together to actual do this thing.
So there we were, three friends and the belief that the people who get things done are the ones who 'just fkn do it.' That was our slogan, by the way – our mission statement, if you like. And nothing came of it, until one night at the end of January 2015, two of us went to the launch of Push literary fanzine, based in London, successful, and built on nothing but good writing, energy and a do-it-yourself approach.  One of us looked at the other, stabbed at the copy of Push on the table with a finger and declared 'we can do this!' So we have.
After fundraising the £50 we needed to pay the Playhouse in Derry for use of their photocopier, we asked for submissions from local writers. What we received was work not just from Derry, but from Donegal, Belfast, England, Scotland, France and Germany, from published authors and from brand new voices never heard of before because they had never been in print. And the quality of that work ranged from promising to incredible.
That first edition was photocopied, folded, stapled by hand, and then launched at a wonderful night in the Playhouse. The magazine is called SHIFT, after the key on a keyboard, and is now at its third edition, printed this time, with more planned for the New Year.
There are no literary giants in our group, just writers struggling like all the rest, at a kitchen table with a laptop or a pen and paper, trying to get work published perhaps and getting nowhere. Or writing in isolation, too nervous to get that first submission out there. That is why, more than anything else, our philosophy is this; we do this ourselves, independent of anyone, funding SHIFT from the sales of the magazine itself and if the writing is good, then we'll do our best to publish it.  
Not all of the writing that we publish is for the faint hearted, but it has always been our intention to rely on that punk philosophy from the seventies, that anyone can do anything if they put their mind to it and we do not censor. There are no limits in SHIFT, on the style of writing or subject matter. What matters is that the writing is good and has value, in and of itself.
With issue three published, that range of work and that level of quality has not diminished. In fact it has grown, as more and different writers send us their work. It has been a privilege for us to read each piece and a joy to put it into print for them, from prose, serious and comic, to the most unexpected and beautiful poetry. We also receive the newest of work, brief, sometimes not quite there, but containing a gem of a line or an honesty of voice that is enough for us to say, "that's definitely going in!"
The level of interest and support that we have received has been a surprise, not only from the writers themselves, but from local organisations; the local arts venues who offer practical help despite having to deal with their own funding cuts, the little independent book shop who sells and promotes our fanzine to anyone who ventures in, the cafe where we hold out Hear It Out Loud evenings. Somehow, have created a scene of mutual support and pleasure where anyone can read their work in an informal and fun environment. This has been a real revelation and has boosted the confidence of the most nervous writer, standing, perhaps for the first time, at a mic, hands visibly shaking, to read their piece to a warm and receptive audience.
We are a most unlikely editorial panel – even that necessary group name is enough to make me uncomfortable. We are less literary than we are democratic, believing that if we allow the world of writing to be exclusive, elite and distant, then we risk killing the spirit to write in too many people, the ones who are currently writing with the hope dying in them that they will ever see their work in print.
Unexpectedly, we have given hope – isn't that nice?