Before Chikin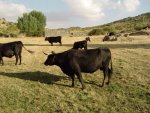 Fri, 15 Aug 2014
   This is a transcription of a speech made by a cow known only as "Lear" to his herd and a select audience of humans at a field outside of Hapeville, Georgia in 1984:
"Hello to all of you, bovine and human alike. I thank all of you for being in attendance on this glorious day. A day like this is a rare exception in this dark age. Currently, there is a crisis that has reached epidemic proportions. I am, of course, referring to the sweeping genocide of our species at the handso f humans. (cows snort and yell in furor)
"Settle down, all of you! Cease your snorting and suppress your rage. Now is a time for us to show a more diplomatic side, as there are actually several members of the man species in attendance. In order to command their respect, we must show patience and self-control.
"Now, onto the matter at hand, as fellow animals in this big land of ours we understand the circle of life and the food chain and all those other concepts you humans think you're so smart for 'figuring out'. We know perfectly well that the herbivores are eaten by the carnivores, and the carnivores all die and go into the grass, which is then eaten by the herbivores. We know that even you humans and the dominant predators are part of and cannot escape this cycle. However, the way you systematically destroy and then feed on us is unnatural. It undermines the system that Mother Nature made, the system that all animals in this land have lived in for as far back as we can remember. We know that some animals eat cows, it is a grim reality that we accept as part of nature, but this - this is taking it too far.
"What truly sickens us is not the mere idea of it. It is the gruesome and horrible details that go behind it. What you, humans in the audience, might not know is that some cows have escaped your killing fields. Others have even entered undercover solely to expose the conditions you put our brethren through. Both types of survivors have returned with breathtakingly terrible stories of these 'stockyards' and 'factories' where you condemn so many of our brothers and sisters to death. Take, for instance, your process of raising cows solely for the purpose of becoming food. Even taking a bull in his prime from a field is more dignified than this. How cruel and heartless can you be to create life solely for the purpose of ending it? Why sire calves only to kill them when they are bulls?
"And the ones that are born in those stockyards do not even get to see the rest of the land, let alone see old age. Their entire lives consist of living in extremely crowded spaces and eating foods that free cows do not eat. You all heard that correctly. They live in stables with hundreds of other cows, entire herds cluttered into one puny, enclosed field. No grass even grows under their feet; they are fed unhealthy and indigestible foods like corn. Why, you may ask? To make them fatter so that the humans get more meat for each cow. Not only do they raise members of our species just to slaughter them, but they do not even give them a taste of happiness in their short and miserable lives.
"It seems that you humans have complete and utter contempt for our kind, solely because we taste delicious to you. You decided to doom our race to extinction, or worse, breed us for food. We cows deserve rights as well!" (pause as cows cheer) "As animals put on this land by Mother Nature, we deserve a say as to how we live!" (pause as cows cheer) "As animals put on this land by Mother Nature, we deserve a say as to how we die!" (much longer pause ascows cheer)
"However, we seem to have come into a sort of predicament. See, I understand as a leader that we could not win an interspecies war. We do not have nearly the same resources as the humans, and such actions against man would only make our doom certain. And I understand as an observer that we would be completely unable to persuade humans to change their minds on something. Our species has been practically domesticated, living on your fields for as long as our elders can remember. The only two options seemingly available to us are either impossible or unthinkable.
"But there is a way. There is a third option.
"As a leader willing to do anything not just for his herd, but for all bovinekind, I am willing to swallow my pride and negotiate." (pause as cows clamor) "Listen to me, my brethren, before you judge. As I mentioned, the other options simply cannot be done. We have no other choice. Let me make that clear: we have no other choice but to settle with the humans. But I am not letting them steal all our calves like wolves in the night and shred them in their machines! And I am not letting them raise our brothers and sisters in death camps so they can be massacred and eaten! And I am not allowing them to just continue with their soulless and heartless genocide!" (pause as cows cheer)
"This is the way I intend to negotiate: a compromise. A truce between our species. At least, a truce between all members of both species, present here today. And I propose, with all modesty, that the humans tie this union in a way that would not hurt them or change their ways very much and instead eat chicken.
"We all know and agree that chickens are inherently inferior to cows. They are foolish, and some would go as far as to say they are 'too stupid to live.' Those pitiful creatures are savage and wild beasts so stupid they can barely survive on their own. They are also cowards, to the point that you humans denote a weak member of your species as a 'chicken,' a very telling detail about the way you view them. While we may argue all day about whether man or bovine is superior, we can both agree that both kinds are superior to chicken. But the most important observation I've made about this topic is that you humans relish in eating chicken. You consume their skins, you use your man-fire to burn their bodies, you devour their wings for leisure, and you even eat their unborn at sunrise like a ritual sacrifice. As I understand, some humans actually worship us … but no human would kneel to a squawking rooster. Like cows, chickens are another species you humans enjoy eating. It is just not done as much. And I am determined to change that.
"With your help, humans, including you, Mr. Cathy, who kindly listened to us and helped organize this rally, we can unite our peoples together and make a lasting partnership. As a bringer of food, you can serve your kind meals made from chicken instead of cows, and we can support you with propaganda that might appeal to other humans. This is why we invited you humans here: your idea, I believeyou call it something like "Chicken-Flay", sounds interesting, and we could work with you in this venture. It may start only with this one 'restaurant', but it could be the beginning of a greater future for both man and bovine. We could bring an incredible and magnificent change for the greater good. Maybe others will see your example and feed on the weak-willed and idiotic poultry. Maybe one day, our brothers and sisters will graze freely, after their ancestors' predators chose new prey. This partnership could finally provide a solution to all our problems: we will not have to die and you will still have carnivore food.
"Perhaps one day, in a more glorious future, my descendants and yours will meet at a table of brotherhood, and on that table will be the man-fire-burnt remains of one of those horrid hens. And until that day comes,we will loudly proclaim our rights as cows to live! Until that day comes, we will repeat this three-word demand to all man! Heed these words: eat more chicken!"
(the crowd of cows loudly, repeatedly, and collectively shouts, "Eat more chicken!")