Traffic Light Disaster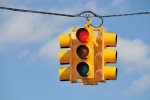 Wed, 11 Jul 2018
As soon as I ran that red light, I knew that our fates were sealed.
Because of my carelessness and stupidity, seven people were killed.
When I crashed, my wife and children were killed instantly.
So were the people in the other car and it's all because of me.
It is horrible when people meet such a terrible fate.
When people think about me, their hearts are probably swollen with hate.
After the crash, I died two hours later on the operating table.
Somehow I made it to Heaven and I'm amazed that I was able.
All seven of us were sent to Heaven because of the fate that we were dealt.
Everybody might've survived if we had been smart enough to use our seatbelts.
The fact that I made it to Heaven proves that God has great mercy.
Only I deserved to die, I hope that people will eventually forgive me.