" A child … will be called …"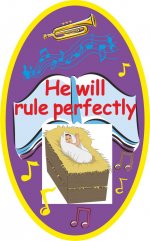 Sun, 15 Dec 2019
[Continuing the hymn-for-Sundays series]
The child will be Wonderful,
miraculous, Counsellor:
true, kind and wisdom-ful,
a powerful Comforter.
The child will be God, the Son,
the governing Prince of Peace;
eternal, from heaven he'd come  –
his kingdom will spread, increase.
A Father's protective care,
good Shepherd who will redeem,
our follies and sins he'll bear,
and Light in the darkness beam.
'he will be called Wonderful Counsellor, Mighty God, Everlasting Father, Prince of Peace.
Of the increase of his government and peace there will be no end. He will reign … establishing it and upholding it with justice and righteousness from that time on and for ever.' Isaiah 9:6,7
Tune: 77 77