… The Bright Day Interlude following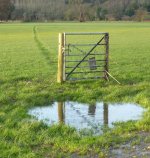 Fri, 18 Dec 2015
near  Whitney Toll Bridge, near Hay-on-Wye
Good to get out
when the weather is dry,
with breeze that will freshen,
and the clouds lifted high.
We pad through a thicket
on beach-tree leaf mulch;
over flood plain we squelch
(the fields waterlogged),
and cling to the fence
where large puddles lie
too deep for our boots,
– when we can't quite get by
without slowly sinking
in watery ground,
must back-track to find
a different way round.
The river is full
rushing heavily on
branch caught on the bridge,
catches twigs swept along;
a buzzard is mewing,
a goldfinch flock flits,
and swirls, then a cluster
of pink long-tailed tits;
while the wind shakes the pines
– sound of trains rushing fast –
and a low-flying jet
like a bullet shoots past.