Arborglyphs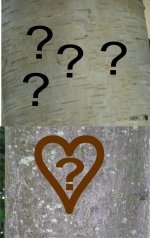 Mon, 01 Aug 2016
Lonely shepherds carved on aspen
and if the tree the etching sealed,
their lines grew dark, against light bark
– more clearly then they were revealed.
Isolated, raising mutton
for the miners in the camps –
artefacts disclosing history
of these isolated tramps.
*****
A young US man called to war
promised his new bride as he went
he'd carve their names upon a tree
at every place that he was sent.
Before the testing time in France,
he carved his first on Salisbury Plain,
and if it did not kill it first,
then on that tree it would remain.
Returned from war, and long his life,
but recently his widowed bride
received a photo of the past,
and she was so amazed, surprised …
A student's project on these glyphs,
carved more than sixty years before,
had traced her from the name and town –
his 'message-glyph' at last she saw!
(IP: use something carved on a tree, real or imagined [could be names, could be something else])