A Changed World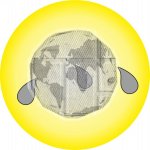 Sat, 17 Oct 2020
A virus-shaken world,
death not buried
now away from thought,
noticeable, noticed.
Prosperity undermined;
no quick way back
to dreams of ease
of recent times when most
had little lack.
Where is hope?
Many spared
many humbled
more caring?
progress with cures.
Unmasked:
the transience of all we possess,
the folly of greed,
revealed.
That which endures
immortal, unaffected by virus,
or behaviour callous
is sure,
unspoilable:
who is desirous
of such a better life
and such a better world?
A vibrant future.