on the cliff path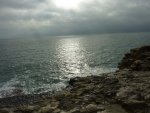 Wed, 03 Dec 2014
1 likes
We're high above the sea;
– it stretches far away:
the heaving, briny plain
that's edged by frothy spray.
The mist has cleared, the clouds
thin out, reveal a glow
which casts a silver path
across the surge and flow.
One boat in all that desert;
we see a cormorant dive
– so out of sight there teems
an ocean world alive.