Come, children, let's garden!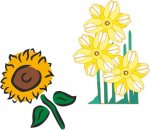 Fri, 19 Feb 2021
1 likes
In earth that's brown
we plant our seeds
from which are grown
(together with weeds)
the flowers we chose
and the lettuce and leeks:
each seedling grows
in coming weeks.
We like the weeds
growing in the wild,
but here our seeds
need room, my child
to grow up strong
with room for their roots,
uncrowded, so the sun
can shine on the shoots.