Doubt must examine evidence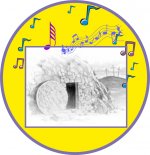 Sun, 16 Apr 2017
[For Easter Sunday – Continuing the hymn-for-Sundays series]
He said he'd not believe, unless
his finger in the holes could press.
Jesus, unseen, observed all this
and so he came again to bless,
just one week later, through locked door,
(Thomas had missed that time before) –
to Thomas said 'You feel my side':
his friends had not been fooled, nor lied.
'My Lord, my God' – now filled with awe
see Thomas worship and adore.
Jesus had told them he would rise,
but they had all felt such surprise
when this he did – so testified,
many eye-witnesses supplied
combining threads of evidence
for those who'd want assurance hence.
Tune: DLM eg 'Ye banks and braes'
On the evening of that first day of the week, when the disciples were together, with the doors locked for fear of the Jews, Jesus came and stood among them … Thomas … was not with the disciples when Jesus came. So the other disciples  told him, "We have seen the Lord!" But he said to them, "Unless I see the nail marks in his hands and put my finger where the nails were, and put my hand into his side, I will not believe it."
A week later his disciples were in the house again, and Thomas was with them. Though the doors were locked, Jesus came and stood among them … he said to Thomas, "Put your finger here; see my hands. Reach out your hand and put it into my side. Stop doubting and believe."
Thomas said to him, "My Lord and my God!" …
These are written that you may believe that Jesus is the Christ, the Son of God, and that by believing you may have life in his name.
John 20:19-31    
[IP this week: doubt and proof, remembering Thomas]