English Englyn*??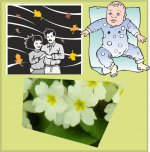 Mon, 22 Jan 2018
 [*pronounced Eng-linn, with the E like in 'men' not as in English!]
Storm
Gales blast, gust, buffet, whirling (– angst batters)
bits of clutter swirling,
sights surprise the eyes, winds fling
loose roof-tiles lift, toss, hurling.
__________________________________
New Granddaughter (with her parents)
She gurgles – grins contagious – eyes sparkle;
poke funny face – infectious,
rebounds our sudden sounds to us:
parental play hilarious.
__________________________________
Primroses
Pastel smudges pale emerge –  charisma –
March charms in peaceful surge,
elegant on verdant verge:
gentle primrose generous splurge.
Noo suggested using the 'Risk' prompt to try a risky form. I have mentioned before being influenced by the complex sound patterns in formal Welsh 'cynhangedd' [cung-hann-eth '-hard 'th'] poetry, but haven't wanted to get involved in trying to get to know and use any of the 'official' strict patterns.
The 'englyn' traditionally is a very brief, compact verse, and uses 'cynghanedd' and set lengths of lines (again though there is variety), there can be a hangover at the end of line 1 linking meaning and consonant/vowel pattern with the beginning of line 2, rhymes sometimes on-beat , sometimes offbeat, sometimes internal.
There can be a danger of concentrating on producing a pleasing (or technically correct) sound-pattern-compostion, but losing a clear message in seeking to fulfil the complexities.
Whether formal cynghanedd would be useable in any form in English, with its different sound composition and 'music', I suppose is debatable, but I have attempted to play around with the ideas to try to get what feels somewhat similar in English, and give an impression of this intensive patterened verse – and still convey a point, maybe in an unusual, memorable form.
I worked on these earlier this month, but wanted an opportunity to bounce them off my sister who is a Welsh language academic and who also has enjoyed 'cynghanedd classes' for a few years. She liked the idea of adapting the englyn pattern like this to get brief, intense English verse, and while recognising that I had not attempted to master the precise rules of Welsh cynghanedd, something of their effect and impact may be conveyed.
This below is an englyn that my family 'used' as a 'grace' for giving thanks after meals as I was growing up. You may notice something of the consonant repetition and pattern. In line 2 you may notice the well known Welsh word 'diolch' meaning 'thank-you'.
O Dad yn deulu dedwydd – y deuwn
a diolch o'r newydd,
cans o'th law y daw bob dydd,
ein lliniaeth a'n llawenydd.