Gifts Unvalued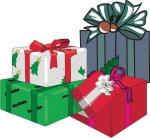 Sun, 05 Feb 2017
1 likes
[Continuing the hymn-for-Sundays series]
Gifts "exchanged" and gifts "expected",
grudging giving – price inspected:
some thus hope to buy esteem,
which they later can redeem;
some just want to give a token
as a sign of love unspoken.
God is not obliged to gifting
those forgetting him and drifting,
and we can't placate, persuade
by a few good deeds displayed;
previous gifts have lain unused
or discarded, mocked, abused.
If we value love so great,
sense our very needy state,
long to live with souls repaired,
fellowship, much anguish spared,
then for ever with him live –
oh, receive what he can give!
For God so loved the world that he gave his one and only Son, that whoever believes in him shall not perish but have eternal life. John 3:16
Tune: 77 77 77 eg England's Lane, tune of 'For the beauty of the earth', or Dix, tune of 'As with gladness men of old did the guiding star behold'